End-Of-Year Party Ideas To Pitch To Your Boss
Because why leave it up to management
Last Update: 19 December 2019
Take the lead in making your office party an event everyone will remember. We've got one-of-a-kind venues and office-function ideas to raise the bar on all the parties that came before and give the team the end-of-year bash they deserve.


A FIESTA TO END THE YEAR
La Parada on buzzing Bree Street is perfect for any function, with its Spanish-inspired decor and food, and it's extensive drinks menu. You can chill outside on the leather couches or sit inside near where the magic happens. Choose from tapas like tuna tacos, prawn croquetas, grilled or fried calamari, or if you're hungrier, try the lamb rack, seared tuna, or wagyu beef burger. They can also create a custom menu for you. Book your function at La Parada on Bree.
Pitch it to your boss: There's a secret underground mini-club that can accommodate up to 120 people for a cocktail-style function. Plus, La Parada can customise a set menu for you based on your budget


107 Bree Street | Cape Town City Centre | +27 (0)21 426 0330 | breestreet@laparada.co.za
FROM CLASSY TO RUSTIC AND MODERN CHIC
HQ on Heritage Square has a classy mezzanine, a lounge area beneath or a rustic French provencal courtyard you can book for any size and style of year-end function. You can book the entire venue or reserve one of the sections, for anything from lunch to dinner, canapés and cocktails. There is no venue hire fee, just a minimum spending fee, depending on the area booked, the number of attendees and the evening of the week. Plus you get access to live music by some top Cape Town musicians when you book an evening year-end function at HQ.
Pitch To You Boss: Well you'll have him/her at no venue hire but also mention the add ons HQ's management can organise, which include wine tasting and ice cream sampling from other businesses in Heritage Square.


Heritage Square | 100 Shortmarket Street | info@hqrestaurant.co.za | +27 (0)21 424 6373
BUCKET LIST EXPERIENCES FOR SMALL TEAMS
Looking for an ocean adventure that's short, informative and fun? Take your team on Ocean Experiences' Table Bay Safari, which lasts 45 minutes and lets you experience South Africa's rich marine life in its natural habitat. Boats leave from the V&A Waterfront for adventures with Ocean Experiences.
Pitch it to your boss: The Table Bay Safari, which costs R600pp, is discounted to R550pp and R450pp for CapeTownMagazine.com readers. To book phone +27 21 418 2870 and mention CapeTownMagazine.com or book online via our exclusive Ocean Experiences deals page.

Shop 8 | Quay 5 | V&A Waterfront | +27 (0)21 418 2870 | info@oceanexperiences.co.za
A GOOSE CHASE THAT'S WILD BUT NOT POINTLESS
Put your team's communication skills, creativity and endurance to the test with this app-based scavenger hunt in and around Cape Town or Stellenbosch. Teams use an app that is pre-loaded with 16 to 30 challenges, all of which they'll need to complete using a combination of strategic, tactical, navigational and common-sense skills. Rain or shine, the game plays on, all during the day. In case of rain, one can always choose the game that has been designed indoors and explore the wild underwater world of the Two Oceans Aquarium. As of May 2019, a wheelchair-friendly version of the game is available, so no-one gets left behind in a game with The Gallivanting Goose.
Pitch it to your boss: This is a fun, interactive way to get to know your colleagues while also working on team uniformity and productivity.
Please note: The wheelchair-friendly game is venue specific.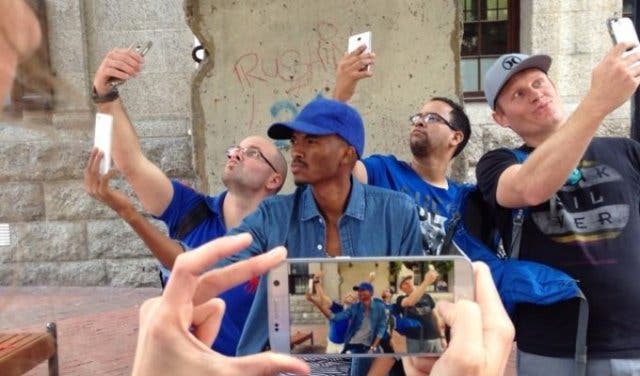 Various locations in and around Cape Town or Stellenbosch | www.thegg.co.za | +27 (0)82 468 3052 | talktome@thegg.co.za
WHERE CORPORATE EXECUTIVES TAKE THEIR TEAMS
Beluga has all the elements for a tremendous end-of-year party, with seating for up to 400, an excellent Euro-Asian menu, outstanding service, a fully furnished bar, a charming courtyard and plenty of space for entertainers and presentations. Beluga is famous for its sensational set menus that include sushi and seafood, vegetarian and vegan options. You can also order halaal-friendly food at Beluga.
Pitch it to your boss: Best for corporate hospitality, which is why it's been a top choice for corporates' end-of-year functions for nearly two decades.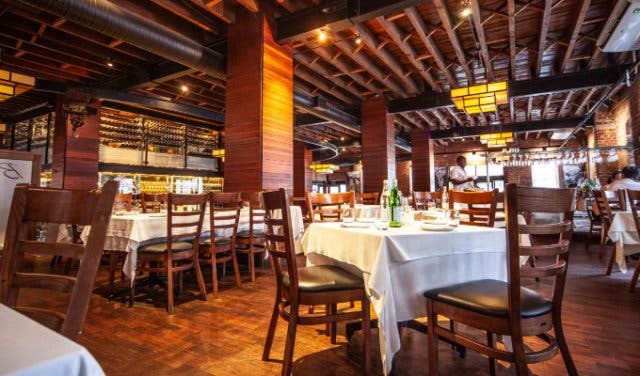 The Foundry | 70 Prestwich Street | De Waterkant Cape Town, info@beluga.co.za, +27 (0)21 418 2948
INNER-CITY SHINDIG IN A COSY LOUNGE AND DECK
At the Mediterranean-styled Sotano on Bree, you can book the upstairs, open-plan restaurant and deck for a canapé-and-cocktail-style function for 300 guests or a seated dinner party for 120. Or opt for the light and bright lobby-style bar downstairs that serves Northern Spain's version of tapas. They're called pintxos (pronounced 'peen-chos') and are small bites such as prosciutto on olive baguette and skewers of black olive, red pepper and chorizo at Sotano on Bree.
Pitch it to your boss: It's cool, plus you can customise your menu, music, decor and entertainment needs in advance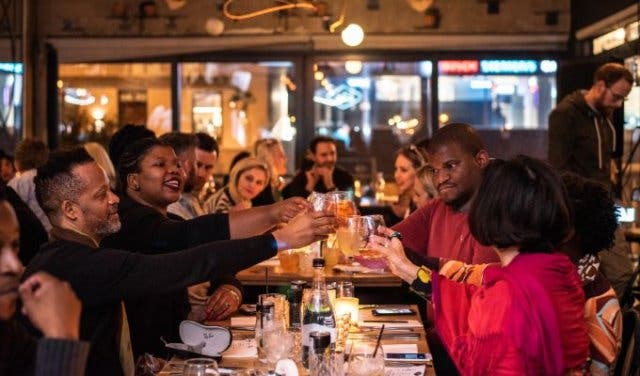 199 Bree Street, Cape Town City Centre, bookings@sotano.co.za, +27(0) 422 0567
...OR ON THE BEACHFRONT OVERLOOKING THE PROMENADE
Sotano's beachfront location and outdoor deck overlooking the Mouille Point promenade is another superb location for an end-of-year gig. At Sotano Mouille Point, opt for a sit-down dinner for any number from 10 to 120, or book a canapé-style cocktail-do for 300 guests. You can customise your menu, music, decor and entertainment needs in advance at Sotano Mouille Point.
Pitch it to your boss: Let's make a toast with a beautiful sunset scene in the background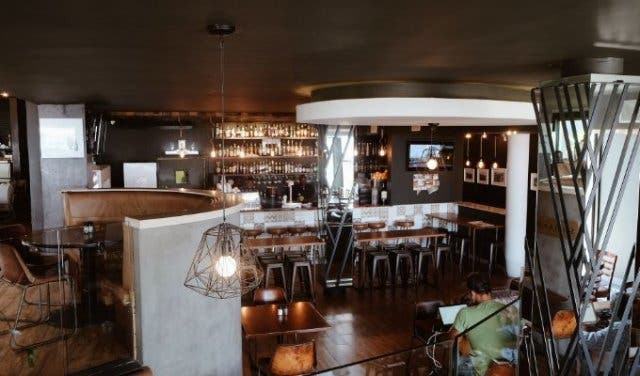 121 Beach Rd, Mouille Point, info@sotano.co.za, +27(0) 433 1757
CELEBRATE 2019 (AND 2020!) ON A ROOFTOP OR IN A PRIVATE LOUNGE
Voted one of the best new bars in the world by Condé Nast Traveler in 2012, Tjing Tjing House is ideal for small, memorable, year-end functions. The Rooftop Bar has been a favourite hang-out since 2011, and is still as popular as ever. Killer cocktails, views and an inner-city vibe in an old attic with an open area make this rooftop special, plus there are great indie and electronic tunes. One floor down is the moody, intimate Momiji Lounge, with sunken booths and a long, low couch, where you can sip on Japanese folklore-inspired cocktails or Japanese whiskies.
Pitch it to your boss: There is no venue hire cost at Tjing Tjing House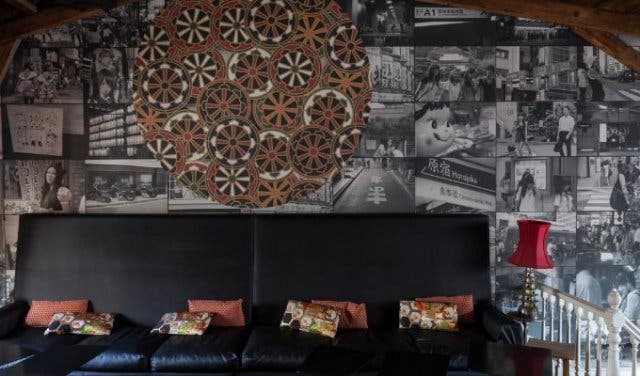 165 Longmarket Street, Cape Town I +27 21 422 4920 I info@tjingtjing.co.za
LOW-TECH COMPANY RETREAT IN APPLE COUNTRY
Super cosy, minimum tech and high relaxation is what it's about at this luxury glampsite in the Elgin Valley, just 50 minutes from Cape Town – it's another great weekend-away option for a small company. There's ziplining, canopy and Segway tours, hiking and mountain biking (it's right on the Absa Cape Epic route) and plenty markets and restaurants right around the corner. Discover Cherry Glamping near Cape Town and low-tech Wednesdays at Cherry Glamping's team-building getaways.
Pitch it to your boss: There are hammocks for chilling, and a viewdeck and big braai area for bonding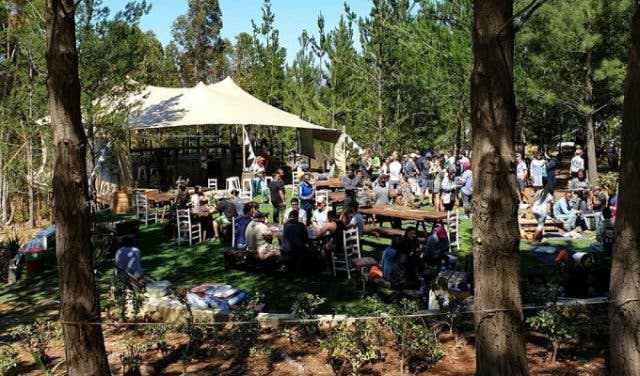 Groenrug Estate, N2, Grabouw | +27 (0)82 788 9837 | info@cherryglamping.co.za
SHIMMY OUT OF THE OLD WORK YEAR AT THIS CLUB
Did you know there's a choice of venues and facilities for year-end events at Shimmy Beach Club at the V&A Waterfront? It has lounges, decks, a private beach, restaurant, kids play area and a VIP area, all catering to different capacities and tastes. A full-time, in-house events team is able to take care of all the details, and is happy to look at a range of events from small meetings and dinners to glamorous parties.
Pitch it to your boss: End the year on a glamorous note, and let the Shimmy team worry about organising it all


12 South Arm Road, V&A Waterfront | functions@shimmybeachclub.co.za, +27 (0)21 200 7778, website
BEER'S THE FOCUS, PLUS THERE ARE PUB GAMES
Have you ever tried a beer cocktail, a Beer O'Clock tasting tray or a beer-and-food pairing? If your colleagues are the kind who love the brew, this will be end-of-year party heaven. Beerhouse offers 25+ taps and 99 bottled beers, from craft to micro-brewery brands, along with spirits, wine and non-alcoholic drinks too. Play pub games or have a quiz night (which can even consist of company-based questions) or express yourselves at a silent disco. There are really so many options at Beerhouse.
Pitch it to your boss: Booking an end-of-year party here is sure to make you a legend


223 Long Street, onlong@beerhouse.co.za, +27(0)21 424 3370
A STYLISH AFFAIR AT A WINE ESTATE FIT FOR A PRINCE
Haskell Vineyards in Stellenbosch is a classy choice. It offers year-end gatherings for up to 45 guests including welcome drinks, wine tasting and a cellar tour with the winemaker (this estate's wine was chosen by Monaco's Prince Albert for his wedding when he married Zimbabwean-South African former Olympic swimmer, Charlene Wittstock). Wines are balanced by a harvest table laden with different platters. Think slow-roasted lamb shoulder with rosemary caper mustard sauce, Peruvian roasted baby chicken with coriander, lime and pickled red onion, dukkah roasted cauliflower with avocado dressing, seasonal salads, and more for R300 per person at Haskell Vineyards.
Pitch it to your boss: No venue fee is charged if the function is in normal trading hours, plus you can also get wine at cellar-door prices in the restaurant


Annandale Rd, Lynedoch, Stellenbosch, +27 (0) 21 881 3895, info@haskellvineyards.co.za
SCOOT IN CAPE TOWN, FRANSCHHOEK OR STELLENBOSCH
Forget the deadlines and targets, just freewheel into a carefree day on motorised scooters. It's a year-end function with a difference, and there are wonderfully scenic routes to choose from, from Signal Hill and Table Mountain Road and into the Bo-Kaap. Or travel out to Stellenbosch and explore the Jonkershoek mountains or discover Franschhoek with Scootours Cape Town.
Pitch it to your boss: Scootours offers various thrilling activities, from paragliding and abseiling to kayaking and swimming with seals off the coast, providing all you need to let loose and make memories

Various locations, +27 82 776 0557, capetown@scootours.co.za
IF FAMILY IS INCLUDED, TRY THESE GAME DRIVES
If you're the kind of company that likes to include families, then this Stellenbosch vineyard could be a good option for your year-end. Not only does it produce its own wine, but it also has a big cats park and offers game drives. You can see springbok, zebra, fallow deer, golden wildebeest, sable and more. For R225 for adults and R170 for children aged 3–11 years you can appreciate the wildlife and the wine at Vredenheim Animal Farm.
Pitch it to your boss: An office party with wildlife included will be one to remember forever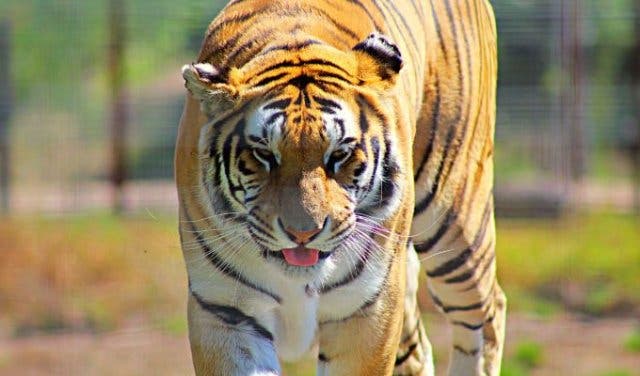 Vredenheim Farm | Baden Powell Drive | Stellenbosch, carli@vredenheimanimalfarm.co.za, +27 (0)60 387 5593
LET A CHEF TEACH THE TEAM TO COOK
Matt Manning's The Chef's Studio is an industrial space kitted out with state-of-the-art cooking stations. Chef Manning, who has worked with legend Gordon Ramsay, offers an interactive cooking demo and hands-on cooking experience in which you share a station with a colleague, before dining with your group in a private dining area. It's a great option for year-end functions with menus ranging in price from R750–R1 950 per person at Grub & Vine.
Pitch it to your boss: Start with canapes and bubbly on arrival and depending on which package you choose, make a four- or five-course menu with wine pairing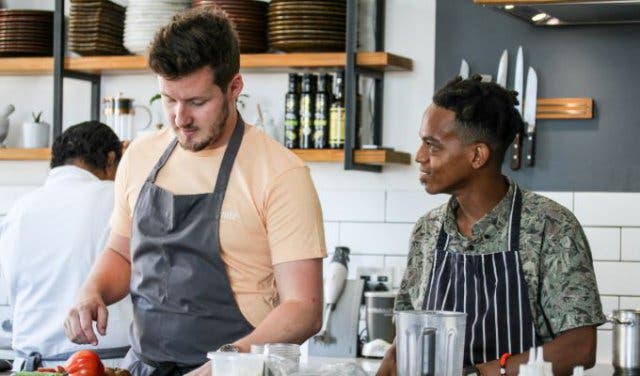 103 Bree Street, City Centre, +27 (0)76 256 8654, info@mattmanningchef.com
THE PARTY WHERE IT'S BETTER NOT TO TALK
An open-air cinema makes for a charming end-year party-with-a-difference (and you can avoid awkward conversations). Arrive a bit before the movie and mingle, eat, drink and relax picnic-style on the lawns. As the movie starts, tuck in under a blanket, lean back on your backrest (blankets and backrests provided) and watch a movie under the stars. Check the movie schedule online, live from September, to find out what movies will be playing at The Galileo Open Air Cinema.
Pitch it to your boss: This is something that everyone will love, and it allows for both socialising and a great time out


Various locations, hello@thegalileo.co.za, +27(0)71 471 8728
EVERYBODY LOVES BLOWFISH IN BLOUBERG
Blowfish Restaurant in Blouberg is a firm favourite of Capetonions largely because of the picture-perfect view of Table Mountain – but the food and cocktails are delicious, too. There are three sections to choose from: the private wine cellar, for up to 25 guests; the deck, with breathtaking views for up to 90 guests; and the conservatory, with mountain views for up to 40 people. Get a two-course meal from R185 per person, or book a sushi-making workshop for the team for only R350 per person at Blowfish restaurant.
Pitch it to your boss: Complementing the view of Table Mountain is the hundreds of kites flying through the sky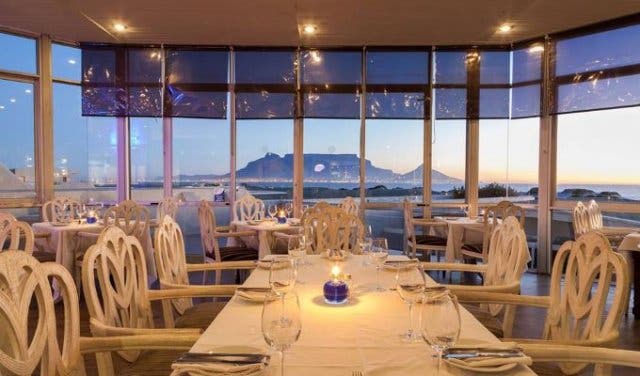 1 Marine Drive, Table View, +27(0)21 556 5464, info@blowfishrestaurant.co.za
IF IT'S TIME TO LOOSEN UP AND ROCK OUT
Celebrate the end of the year rock 'n' roll style at Sgt Pepper. There are three fully licensed bars (including an eight-metre long, non-smoking bar) serving beer, wine, cocktails (think the Tattoos & Tequila Cocktail: El Jimador Blanco shaken cold with triple sec, lime and lemon juice) and shooters. The venue caters for up to 140 guests inside and the balcony overlooks Long Street. The menu is broad: snacks, pizzas, burgers, salads, ciabattas, wraps and desserts at Sgt Pepper in Long Street.
Pitch it to your boss: Rock out to the best of '70s rock, from Freddie and Jimi to Bob, on the dance floor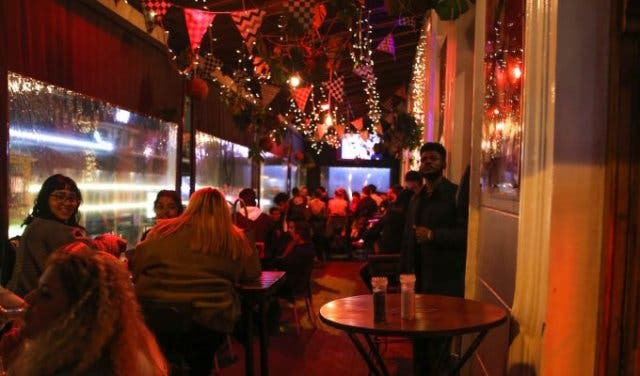 194 Long St, Cape Town City Centre, +27 (0)21 424 5608, info@sgtpepperct.com
END THE YEAR WITH A GOOD LAUGH OVER LUNCH
SA's favourite comedians are descending on the Cape Town Comedy Club for this year's Silly Season Lunch Shows. These events are popular office parties precisely because they're light-hearted, and there's nothing like a laugh after a tough year of work. In addition to the stand-up comedy acts, you also get a three-course meal at the Cape Town Comedy Club.
Pitch it to your boss: Tickets are R480 each including a three-course meal and an hour's show with three comedians, excluding drinks. See the website for dates.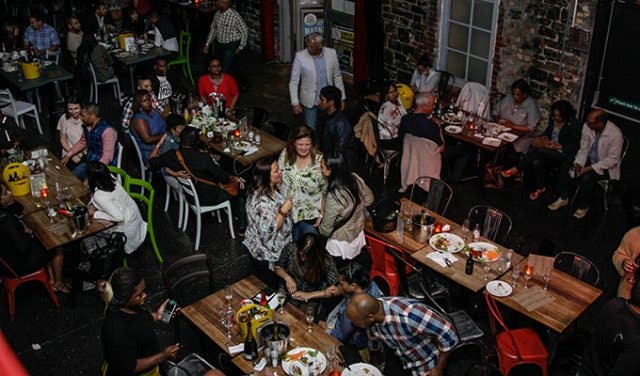 6 Dock Road, The Pumphouse, V&A Waterfront, events@capetowncomedy.com, +27(0)21 418 8880, +27(0)79 495 3989, website
GO TO THE CIRCUS FOR YOUR YEAR-END BASH
It's fun, it's exotic, will make an evening to remember and it's giving back: Zip Zap is a social circus that uses circus arts as a tool for youth development and social transformation, working with around 2000 children annually, offering their programmes free of charge. The venue is located in the city centre in a unique venue, The Dome, where the entertainment includes world-class, gravity-defying circus acts. From cocktail parties to three-course seated dinners, a theme can be tailor-made to suit the company's style.
Pitch it to your boss: By having your year-end function at the dome, not only are you celebrating circus magic with your team, but you're also contributing to inspiring kids for life.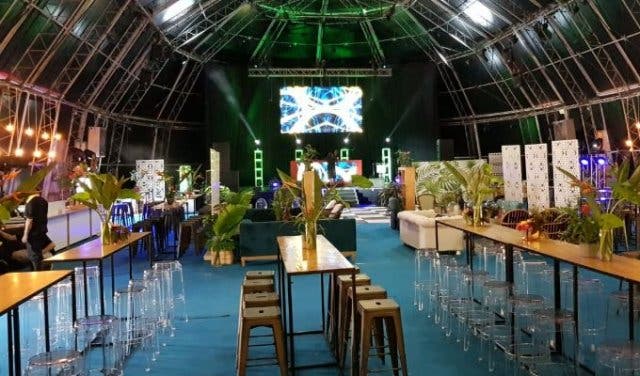 Founders Garden, Jan Smuts Street, Cape Town, +27(0)21 421 8623, events@zip-zap.co.za
BRING OUT THE KID IN YOUR TEAM
Anyone for golf? 3D mini-golf, with glow-in-the-dark hats, hair, armbands, glow sticks – what's not to love about Glowing Room SA glow-in-the dark mini-golf? It's a pimped out 18-hole course for a fast-paced game where you can leave the politics of the office behind and the team can bond over some light-hearted competition.
Pitch it to your boss: Some healthy competition to release office tension and break away from adulting for a bit, good enough reasons to consider planning your work function at Glowing Rooms SA.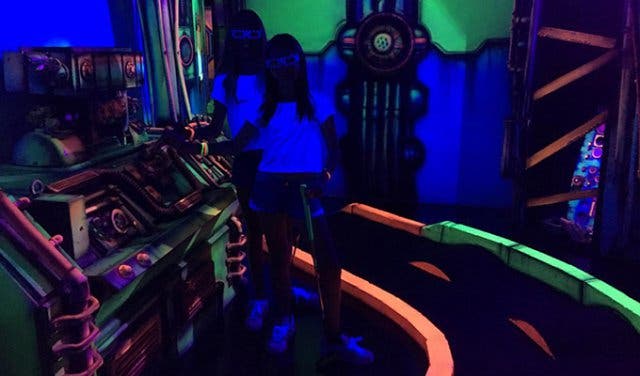 Shop 16 | The Gallery | Milnerton | +(0)21-551 22 44
TEAM-BUILDING AND GET TO KNOW YOUR COLLEAGUES
Bond, connect and get to see your colleagues in a new light on a 90-minute+ journey paddling along the coast and spotting marine wildlife as you go. One of you is the brawn, paddling in front and the other is the brains (or the taller one) paddling at the back and steering. This teamwork means that you are depending on one another to successfully propel your kayak in the right direction. Plus, you have the chance to see dolphins, sunfish, whales, seals and penguins at close range. Get the experience and kayak with Kaskazi Kayaks.
Pitch it to your boss: It's a wonderful end-of-year summer activity, especially for smaller companies because it's affordable for smaller groups. Max 30 PAX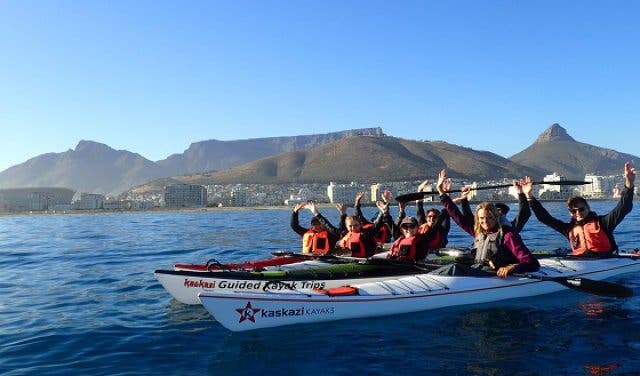 179 Beach Road, Mouille Point (next to the Shell garage) | +27(0)83 346 1146, info@kayak.co.za
GET A HARBOUR VIEW
Host your private social event at the heart of Cape Town's buzzing working harbour. Accommodating up to 100 guests, The AC Hotel Cape Town Waterfront's largest event space provides a perfect intimate setting and their culinary team can prepare a catering menu carefully curated to suit your needs. Allow their experienced event planners to assist you in delivering an exceptional event. The hotel offers over 100 parking spaces, providing easy access to the venue. Read more about AC Hotel Cape Town Waterfront, or visit their website.
Pitch it to your boss: A classy venue with plenty of space to party and a unique view of the harbour, add to that, delectable food and a fully stocked bar – what more do you need?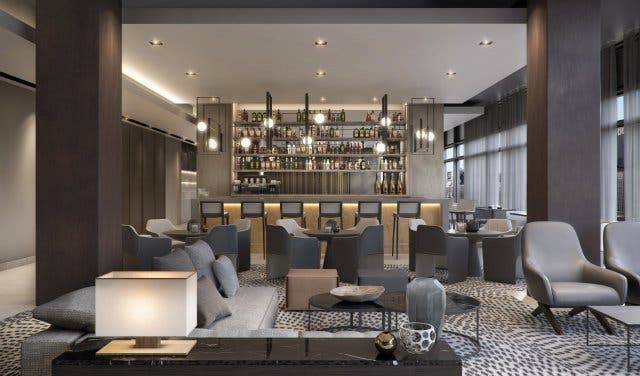 Dockrail Road | Foreshore | Cape Town | +27 (0)21 137 1100
EXPLORE THE OCEAN
Make it magical and exploratory, with this maritime experience. The state-of-the-art Two Oceans Aquarium accommodates big (1000 guests) and small (25 guests) teams. Host a sit-down dinner just metres away from ragged-tooth sharks or let the jellyfish fascinate your guests during a walkabout cocktail party, it's your pick at Two Oceans Aquarium.
Pitch it to your boss: There are different packages to fit various budgets. These can include catering, evening tours, bar staff and even recommendations for entertainers.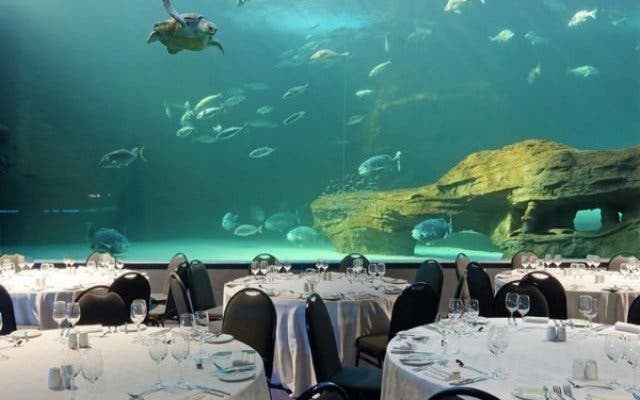 Dock Road | V&A Waterfront | +27 (0) 21 814 4547
IDYLLIC WINELANDS LUNCH OR DINNER AND LIVE MUSIC ON THE DECK
A farm-to-table-style bistro favoured by Franschhoek's top chefs. A private wine cellar or massive reception hall. And remarkable grounds to explore on the La Paris Estate, a spectacular wedding and functions venue in Franschhoek.
Pitch it to your boss: You can make a day of it. Start with cakes and coffee at the La Paris Deli. Then explore the grounds: Rose garden and private lake. And then enjoy live music and an awesome vibe on the deck every Friday night at La Paris Bistro.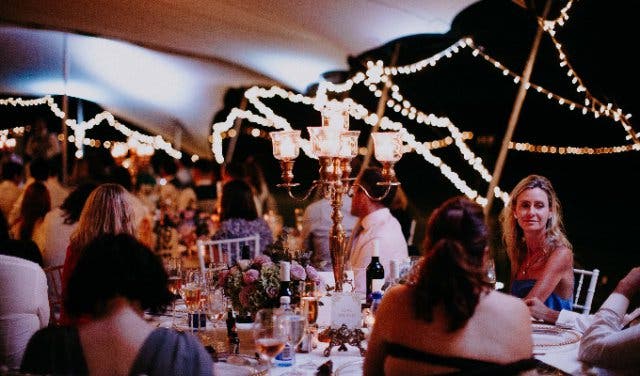 R301, Wemmershoek Road, Franschhoek | +27 (21) 8670171 | events@laparis.co.za
BRAAI AND VIEWS ON A LUXURY BOAT CRUISE
When you think of an office party, you don't usually think of a two-hour boat cruise with your colleagues, enjoying a braai and the view of Clifton 4th beach from the water. Send the year off with a bang with this unforgettable experience that'll have the team talking about it well into the next year. For just R600 per person, this braai cruise includes a meal of chicken kebabs, boerewors or line fish and two salads and bread rolls. Book your slot soon on this one to avoid disappointment. Discover Tigger 2 boat cruises in Cape Town.
Pitch it to your boss: Who doesn't enjoy a luxury cruise to Clifton? Plus, it makes a pretty great group photo backdrop. It's the ideal cheers to another hard-worked year and the ultimate relaxing activity for the whole office.


Tigger 2 | V&A Waterfront | info@tigger2.co.za | +27 (0)82 852 4383
GET EVERYONE ON CLOUD 9
This one-in-a-million experience on Cape Town's number one rated helicopter operator, where you get helicopter rides at 10% discount as a reader, overshadows the average office soiree – without costing as much as you'd think. Cape Town Helicopters does daily flights to 25 routes on the latest Airbus, and you can team it with another activity such as shark cage diving, clay pigeon shooting or a Harley Davidson ride through Constantia at the other end of the chopper ride.
Pitch it to your boss: CapeTownMagazine.com readers get a 10% discount on the Hopper flight using this link. Or get a 10% discount on all other flights by using our unique booking code: FlyAirbus.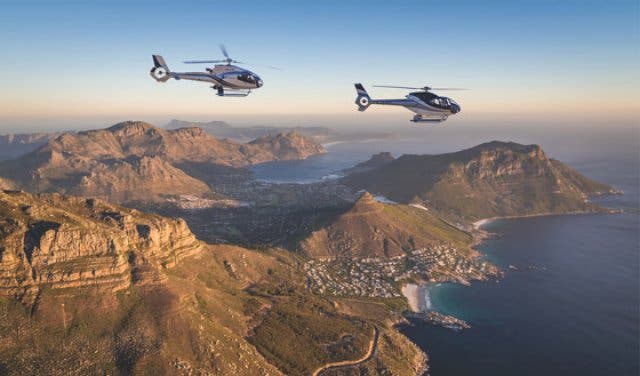 220 E Pier Road | V&A Waterfront | +27 (0)21 418 9462
ENJOYABLE FOR EVERYONE FROM 25 TO 55 YEARS OLD
Stardust is a theatrical dining experience where the servers are also young, talented performers who sing classics and hits by Miriam Makeba, Adele, Beyonce and Rihanna. And, they know how to move. The charismatic and energetic entertainment often results in patrons dancing on the (reinforced) tables. They serve a top-notch dinner comprising North African and Mediterranean food, too. Performances start at 8pm and continue past midnight at Stardust Dinner Theatre.
Pitch it to your boss: Perfect for a boss with a large diverse team because you can book for 180–200 guests, and everyone, from millennials to the middle-aged – loves music and talented performances.

118 Sir Lowry Road | Woodstock | +27 (0)21 462 7777
TREAT FOR A TEAM THAT LOVES RIBS
This upmarket restaurant is open for all kinds of office party functions. It can accommodate up to 200 people seated across its various connected zones, more if it's a casual stand around event. There's also a semi-private side room for smaller parties up to 45 people. You can take your pick from snack platters or a set menu at Knife restaurant.
Pitch it to your boss: Between 5pm and 7pm every weekday it's half price for certain drinks. If your team are meat lovers, Knife is known for its oak-smoked baby back ribs.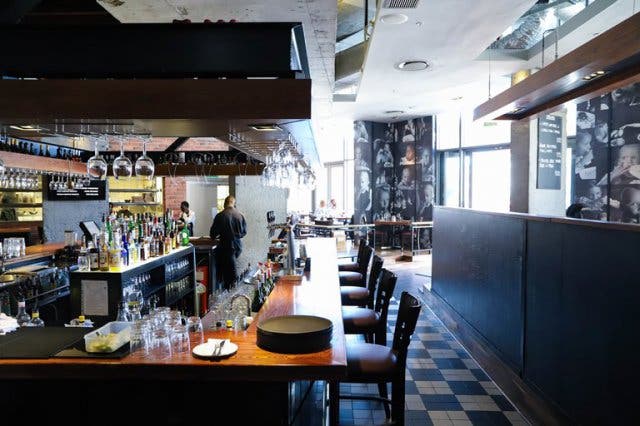 Crystal Towers | Corner of Century Boulevard and Rialto Road | Century City | +27 (0) 21 551 5000
UNWIND AT A NEW-YORK STYLE MUSIC BAR
Book out the entire venue (takes 60 seated or a maximum of 150 standing) or reserve just a section. The Piano Bar has a bar area, a music room and an open rooftop lounge, the latter being ideal for small groups of between 15 and 25 people. There's live music every night from solo artists and bands – anything from jazz to folk. They serve an assortment of tapas and fresh, experimental cocktails at this trendy eatery.
Pitch it to your boss: The venue has a projector and PA system for slide shows and speeches if your boss needs to mix business with pleasure.


47 Napier Street | De Waterkant | +27 (0) 21 418 1096
IF YOUR COLLEAGUES FEEL LIKE FAMILY
Leopard's Leap Family Vineyard celebrates family, and they handle work functions in the same way by making the experience special. A wine tasting in the private room, or a cooking demonstration, following which you sit down to enjoy the meal. They'll serve your lunch in a dedicated dining area. They curate and cater for the type of event that connects at this Franschhoek vineyard.
Pitch it to your boss: You could also celebrate your diverse company heritage by doing your very own South African table – delicious food and wine pairing that celebrates all things local and lekker about South African food, in a way that encourages sharing stories and personal experiences.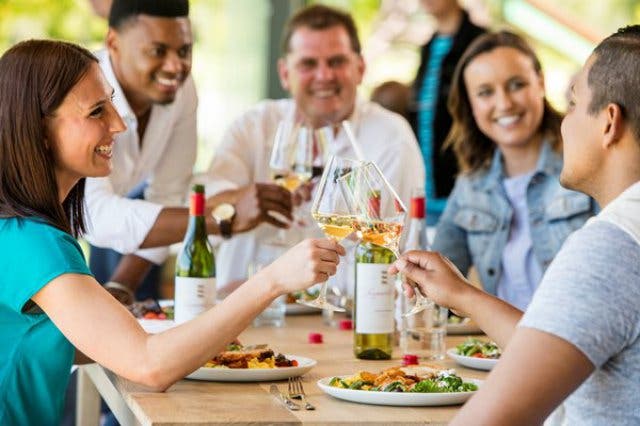 Main Road | Franschhoek Valley | www.leopardsleap.co.za | reservations@leopardsleap.co.za | +27 (0) 21 876 8002
GET AWAY FROM IT ALL
Avontuur, on the slopes of the Helderberg Mountain, is a majestic wine estate that has lush lawns, fine wine and magnificent horses. They offer a myriad of activities to keep colleagues busy, including a 30-minute self-guided walk on the farm where you learn more about the vineyards and racehorses. The specialised wine tastings are also very popular and sure to be appreciated by all. Groups of 10 to 60 guests can be hosted and all activities can be combined with breakfast, lunch or dinner at Avontuur Wine Estate.
Pitch it to your boss: Avontuur Estate has a corporate function venue, perfect for small teams and they can organise fun teambuilding functions too.

AR44 | Between Stellenbosch and Somerset West | www.avontuurestate.co.za | +27 (0) 21 855 3450
INVOKE SOME GERMAN FESTIVITY
The top floor of this German franchise can accommodate between 60 to 80 seated guests or 120 people standing. With a wide-ranging menu, including some German favourites, such as currywurst and a German meatloaf, topped with egg and served with bratkartoffeln, you'll get a true international food experience and a taste of gemütlichkeit at Cafe Extrablatt.
Pitch it to your boss: When you hire the venue, you're free to decorate the space, and there's a large mounted television for corporate workshops or screening a good ballgame. Café Extrablatt is a stone's throw away from the Cape Town Stadium, so if your boss wants to add something extra to the year-end party, he can take his employees to a Premier Soccer League game.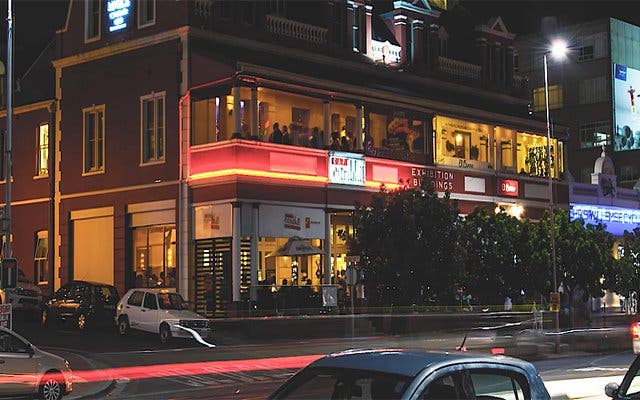 Exhibition Building | 79 Main Road | Green Point | +27 (0)21 434 3759
CLAY SHOOTING, GIN TASTING AND OTHER ACTIVITIES WITH KIFF KOMBI TOURS
If the best way to get your colleagues to gel is through an activity, here's another idea: an epic road trip through Cape Town. Kiff Kombi Tours is perhaps the city's ultimate company year-end experience as it's so much fun, but chilled at the same time. The Gin Jol, Craft Beer Safari and Wine, Beer & Biltong Safari that takes you from Cape Town to picturesque Stellenbosch are recommended. These offer fun activities such as clay-shooting, paintball and bubble soccer. However, you can also custom-make a tour.
Pitch it to your boss: Kiff Kombis is all about good vibes, plus it's as active or chilled as you want it to be. Get your bosses in the mood, let them watch this video of Kiff Kombis' one-of-a-kind tours

kiffkombitours.co.za | bookings@kiffkombitours.co.za | +27 (0)72 213 3888
---
You can throw one helluva party at Rooftop on Bree.

Style and sophistication meet the best steaks in town at HQ.

Give back this festive season with the Christmas Party for Horses.
Make it a year-end to remember.
JOIN CAPETOWNMAGAZINE.COM AT OUR YEAR END THIS YEAR (BEER)
Find the CapeTownMagazine.com team at Cape Town Festival of Beer. Lots of surprises and simply beer and friends. Friends and Beers. Most of all, anecdotes for years.

See above for all info.
MORE DISCOVERIES
From the party of the year to Ibiza-style bashes at New Year's Eve 2019/2020.
They are known for their very big steaks, but they also serve tapas at Dale's Black Angus. Check out their everyday lunch menu and Sunday roast and carvery. Party in an underwater world, hang out on a city rooftop or escape into nature at these great birthday party places. Find team building activities you'll actually enjoy in our overview of team building Cape Town.
Rock the night away with legendary pizzas, classic tunes, musically inspired cocktails, friendly vibes and weekly pizza and burger specials at Sgt Pepper on Long Street. They can also host your party for free on Mondays.
Looking for a place to host a birthday, wedding or other function? Check out some of Cape Town's best function venues.
Get in the spirit and check out these rooftop bars and Christmas events.
From lofts among the trees to a luxurious seven bedroom villa surrounded by vineyards at Marianne Wine Estate. Plus, if you're an SA or SADC resident, you get a 20% discount off your stay.
---
Follow and like us on Twitter ❤ Facebook ❤ LinkedIn ❤ Instagram ❤ Pinterest for updates.