Indoor Activities for Kids
Your guide of things to do in Cape Town with kids when it's too rainy and cold to play outside
Last Update 20 December 2018
The end of summer tends to leave parents in shivers, mainly because a lot of the awesome things to do in Cape Town with kids, like going to the beach, enjoying the city's excellent parks or going for a scenic bike ride, are no longer options during the wintry months. Well, panic no more moms and dads because as it turns out, there is a whole host of indoor activities to keep your tiny tykes and tough-to-please teens out of your hair (and out of trouble) during the colder months.
Whether you're looking for something that will make sure your little firecracker is knocked out come nap time, or you'd like to give your future Einstein a head start by taking them somewhere that will stimulate an impressionable young mind, the Mother City has you covered. No need to fret about finding a decent babysitter or live in fear of the potential breakout of sibling World War III caused by cabin fever, just take a look at this handy guide to fun indoor activities for children and breathe easy knowing that you've got a backup plan for a rainy day.
INDOOR ACTIVITIES FOR KIDS
Two Oceans Aquarium
A go-to favourite that never gets old, the Two Oceans Aquarium offers an enchanting escape into a tranquil underwater world that will have kids of all ages (and their parents) fascinated for hours. The blue haven showcases a spectacular range of brightly coloured fish, sharp-toothed sharks, alien-like crustaceans, cute water birds and more, all under its roof at the V&A Waterfront. Not to mention, if you time your visit right, you can watch African and rockhopper penguins or the sharks getting fed – kind of like being at an oceanic Kruger National Park. It may be worthwhile investing in a membership at the aquarium, which gets you entrance into the venue for 12 months and access to this eternally happy place 365 days a year (the cost to sign up is equivalent to the cost of two entries). Read more about discoveries at the Two Oceans Aquarium.
Cost: depends on age. Check the aquarium's website for prices. The Aquarium is free for children under 4 and South Africans can enjoy free access on their birthday.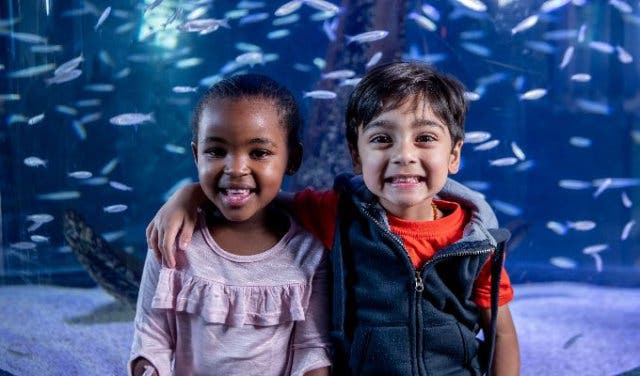 Opening hours: All year round: 9:30am – 6pm
Dock Road | V&A Waterfront| Cape Town | +27 (0) 21 418 3823
The Springbok Experience Rugby Museum
Take your active sons and daughters to the holy grail of South African rugby, the Springbok Experience Museum, for a fascinating and fun afternoon with a bit of history snuck in there too for good measure. Handily located at the V&A Waterfront, the tribute shrine features interactive, audio-visual exhibits that track the history of rugby in Mzansi as well as great artefacts, like Joel Stransky's boots responsible for the drop goal that led South Africa to victory at the 1995 Rugby World Cup. For the younger kids with ants in their pants, there's a state-of-the-art Springbok Trials zone where they can expend their energy by trying out the kicking, passing, fitness and reaction challenges on the Wii-like device, and afterwards they can see if they really measure up and compare themselves to the height of current Springboks. With all the action going on, a visit here is practically as good as a day spent outdoors.
Cost: Adults pay between R50p/p and R65p/p to get in, and scholars and pensioners pay between R30p/p and R40p/p. Pre-schoolers enter for free, and discounts are available for families.

Opening hours: Monday – Sunday: 10am – 6pm
Portswood House | Dock Road |V&A Waterfront |Cape Town | +27 (0) 21 418 4741
Indoor rock climbing at HangTime Gym
Imagine this: a birthday party or family outing that will really get the adrenaline flowing. This is what HangTime Gym, an indoor rock climbing and bouldering gym can offer the little ones. When they're hopped up on so much candy that they're literally climbing the walls, bring them down to HangTime Gym so they can not only expel their sugary rush, but learn a thing or two about correctly scaling a wall! HangTime Gym specialises in kid-friendly experiences and will provide all needed gear to ensure a safe, fun climb. The incredibly experienced and friendly staff will ensure that every climb with your kids is monitored and will be on-hand in case accidents happen.
Price: R70pp for a day pass (and R40 for gear). Don't forget to ask about specials such as "Two Days" and "2-for-1" on the 21st of every month.

Opening Hours: Monday - Thursday: 14:00 - 22:00 | Weekends and public holidays: 10:00 - 20:00
Sunrise Park (Entrance next to Tops) | Pinelands | Cape Town | +27 (0)84 444 5466
Cape Town Science Centre
You could probably take your kids to the Cape Town Science Centre (CTSC) every time it rains in the Mother City and they would never tire of the multiple exhibits and experiments that are there to explore. The Observatory-based laboratory of fun makes learning a jam with the help of awesome activities and tons of mind-blowing things to see, do and test out, like feeling weightless on the human gyroscope, learning about different sources of power at the Energy for All exhibit or boggling the brain with puzzles and problems at the Puzzling Things section. The CTSC regularly has holiday programmes perfect for school kids bored at home, and the best part is that they also feature new exhibits every few months, so each visit will feel like the first time.
Cost: Entry costs R40p/p and families of four pay R140 all together.

Opening hours: Monday – Saturday: 9am – 4:30pm; Sundays and public holidays: 10am – 4:30pm
370B Main Road | Observatory |Cape Town | +27 (0) 21 300 3200
The Playshed
Tiny tykes who have just found their feet can have fun exploring and scampering about at The Playshed indoor activity area in Pinelands, which is just perfect for babies and toddlers. The entertainment centre is a wonderland with awesome slides, bright ball ponds and an out-of-this-world jungle gym where kids can frolic for hours. Not to mention, the young ones can settle down at the various age-appropriate play stations for hours of engagement good for the mind and the body while moms and dads sip coffee at the on-site café. The Playshed is also a great spot for birthday parties for folks who want to have maximum fun without worrying about the mess afterwards.
Cost: Entry is free for babies younger than 6 months; R25p/p for the first hour for babies between 7 and 12 months; R30p/p for the first hour for toddlers between one and three years and R35p/p for the first hour for children between 3 and 12 years.



Opening hours: Tuesday – Sunday: 9am – 5pm (open on Mondays as well during school holidays)
Oude Molen Eco Village | Alexandra Road | Pinelands | +27 (0) 21 801 0141
Iziko Museum's Planetarium
No matter what the weather may be outside, the night skies recreated inside the domed ceiling of the Iziko Planetarium are always perfectly clear, and both the young and the old will be enchanted by the extraordinary, out-of-this-world audio-visual showcase. Budding astronauts and star gazers will get to enjoy an awe-inspiring journey through space as our amazing galaxy is recreated above their heads. Afterwards, they can see what's on exhibit at this astral funhouse, like the collection of iron meteorites that are permanently on display. The planetarium also has regular shows to introduce children of all ages to astronomy, like Davy Dragon's Guide to the Night Sky, for kids aged 5 to 10 years and The Sky Tonight, a lecture on where to find constellations and planets visible each month in Cape Town for teens.
Cost: Entry costs R20p/p for children under the age of 19 years and R40p/p for adults.

Opening hours: Children's shows take place Monday – Friday: 11am, 12pm and 3pm; and Saturdays – Sundays: 12pm and 3:30pm. Museum is open daily from 10am to 5pm except on Workers' Day, Christmas and the first Monday of every month (except on school holidays).
25 Queen Victoria Street | Cape Town| +27 (0) 21 481 3900
Kenilworth Karting
For a thrilling afternoon and a healthy dose of adrenaline (to hopefully tire them out), take your action-loving kids to Kenilworth Karting for some indoor four-wheeled fun. The racing circuit provides hours of entertainment for mini speed demons and young folk who usually get their driving kicks from behind a PlayStation controller, and since there are even lightweight 140cc vehicles for the little ones, no one has to be left out. The venue also has games and pool tables for some off-the-track amusement, though it's more than likely that most of the time will be spent re-enacting the Grand Prix or battling it out to clock in the fastest time. Either way, moms and dads will be happy to know that there's something that will tear the offspring away from the TV, and the parents will probably find themselves joining in too.
Cost: Prices start from R90p/p for children under 16 years for 10 laps and go up to R160p/p for 30 laps. Juniors pay R25p/p for five minutes or R50p/p for 10 minutes. Two-seater vehicles are available and prices start from R110p/p. There are full safety briefings before races.

Opening hours: Monday – Sunday (except Tuesday): 10am – 11pm. The junior track closes at 5pm everyday
10 Myhof Road | Claremont |+27 (0) 21 683 2670
Planet Kids
The best part about the summer time is that parents can take their little ones to the nearest park and let them run, climb and frolic to their hearts content. Fortunately, Planet Kids is somewhere that moms and dads can take the tykes when it's cold and rainy outside and let them do the exact same. Located in Muizenberg, the mini haven has pretty much everything that little girls and boys can dream of when it comes to indoor play – picture jumping castles complete with climbing walls and aliens, fun ramps to climb up and slide down and an intergalactic ball wall to mention a few. Plus, even the teeniest of toddlers can have a blast at the area for Astronautees, which is strictly for kids under the age of three. The folks can hang out with a coffee at the Flying Saucer Café, or they can arrange ahead of time to drop off the young ones and have a well-deserved break.
Cost: Children aged between 2 and 13 years old pay R30p/p for the first hour or R50p/p for two hours, and it costs R1 per month of age per hour for little ones under the age of two.

Opening hours: Wednesday – Sunday, school & public holidays: 10am – 6pm
3 Wherry Road | Muizenberg | +27 (0) 21 788 3070
Ice Skating at GrandWest
South Africa's winters don't get cold enough for snowy white wonderlands, but locals craving a bit of icy play can bundle up and take the kids for a fun session of skating at GrandWest Casino. The Olympic-sized arena is the playground of figure skaters and ice hockey players, but there are also hours set aside for those who are just finding their penguin feet. Ice skating is the perfect pastime for kids keen to just have a bit of fun looping around the rink while discovering what they can do on the ice. Since the rink is located in one of the most entertaining centres in Cape Town, families can pack an entire day's worth of fun activities and action-filled good times under one roof.
Cost: Prices start from R25p/p per session to R45p/p per session depending on whether you rent skates or not.

Opening hours: Monday – Friday: 10am – midnight; Saturday: 9am – midnight; 12pm – midnight. Consult Icerink.co.za for open skate session times.
GrandWest Casino | 1 Vanguard Drive | Goodwood | +27 (0) 21 535 2260
Cave Golf at the V&A Waterfront
A great affordable option for a rainy day, Cave Golf at the V&A Waterfront is an excellent way to kill an hour or two, especially because the putt-putt course is deceptively difficult. Each of the 18 holes has an obstacle, like vertical ramps, sharp corners and narrow pipes, and one misaimed stroke could result in ridiculously high scores. Prepare for frustration, friendly competition and fits of giggles as you and the kids make your way through the grotto-based course, and it's more than likely that you'll all want to have a go at another round just so you can conquer at least one of the holes.
Cost: R15p/p (prices are subject to change with no notice)

Opening hours: Monday – Sunday: 9am – 5pm
V&A Waterfront | Cape Town | +27 (0) 21 419 9429
---
Host your kid's birthday party at Spur.
Looking for more ideas for inside and outside? We've found 50+ cool things to do with kids in Cape Town. Also, be sure to check out Bugz Playpark in Kraaifontein.
---
Use our events section for an up-to-date overview of what's happening in the city, 'burbs and dorpies. Join our newsletter and get quick access on the go by adding us to your mobile home screen for the ultimate guide to discoveries in Cape Town.

Follow and like us on Twitter ❤ Facebook ❤ LinkedIn ❤ Instagram ❤ Pinterest for updates.