How Cape Town Helicopters Makes Unique Experiences for All
Fly high for the cost of two dinners at a trendy restaurant. Here's how
You don't have to be a millionaire to enjoy a once-in-a-lifetime helicopter ride over the Mother City. Cape Town Helicopters offers experiences to suit every budget and special occasion.
For the cost of two dinners at a trendy Cape Town restaurant, you can swoop over the Atlantic Seaboard and pop up over Table Mountain while your pilot, who is also a certified tour guide, narrates the rich history of the area. It's no wonder Cape Town Helicopters was voted #1 helicopter operator in the city on Tripadvisor.
NEWEST, SAFEST MOST QUIET CHOPPER AT V&A
Picture it. You're at the V&A Heliport, waiting to board a magnificent Airbus helicopter, the newest, safest and quietest chopper at the V&A Waterfront. When you get on board and buckle up, your pilot (and qualified tour guide) advises you to hang on because the takeoff is one of the most exhilarating parts.
And he's right. There's that brief moment, just before lift-off, when you get that euphoric rush in the pit of your stomach. And then, slowly, the craft rises and lurches forward, taking you up up and away, over the icy blue waters of Table Bay. And after a few minutes over the marina, as you loop back round to come head to head with Table Mountain, you suddenly understand why this experience is consistently rated one of the top 3 things to do in the Mother City. It's breathtaking. Literally.
Every minute of the Cape Town Helicopters journey is a lifetime of memories in the making.
AIRBUS IS MORE STABLE AND SAFER
There's a good reason why Cape Town Helicopters was voted #1 helicopter operator in the city on Tripadvisor. They take everything to the next level. Instead of the standard Bell choppers, their high-tech fleet of Airbus H 120s and 130s offers a smoother, quieter.
The Airbus is more costly to buy and maintain, but they are much more stable in high-speed winds, safer because of their design and advanced technology, and much quieter thanks to enclosed fenestron tail rotors.
Plus, their helicopters are the only ones legally allowed to fly into sensitive areas, like the Sanbona Wildlife Reserve and Aquila Game Reserve, all of which are tour options.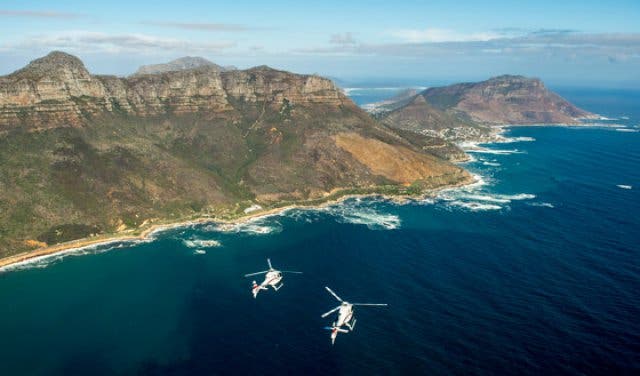 CAPE TOWN HELICOPTERS RUNS AN AVIATION SCHOOL
And then there's the pilots themselves. Not only are they chosen from Cape town Helicopters very own aviation school, each one is also a certified tour guide, who brings local knowledge and passion to every experience. It's no wonder the team have over 1000 "excellent" reviews on Tripadvisor, many of them praising the pilots themselves.
"It's a once-in-a-lifetime experience!" says Heiko K from Köln, Germany.
"Stunning views of Cape Town. Professional and friendly pilots. And great importance is given to safety," comments Sunetra B of Singapore.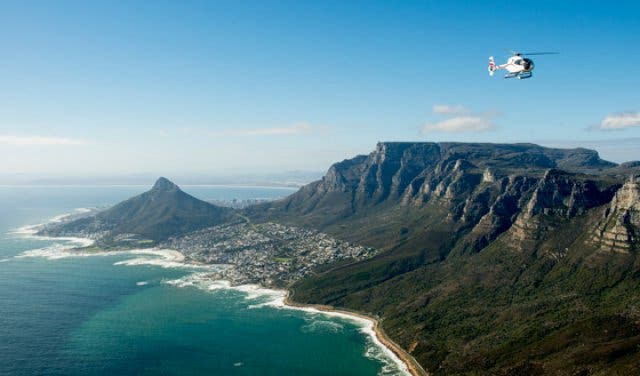 EXPERIENCE OF A LIFETIME FOR PRICE OF TWO TRENDY MEALS
Cape Town Helicopters is a special treat, but it doesn't have to break the bank. That's because the team pride themselves in offering experiences that are affordable for all.
"We're so in love with our city that we scale it to levels that basically everyone and anyone can afford," says Herman Geldenhuys, the commercial manager.
A glorious 15-minute flip on the Hopper flight across the skies of Cape Town comes in at R1 550 per person. This unique Hopper flight (not listed on their website, but you can call ahead to arrange it) may be entry level in price, but it still delivers the full Cape Town Helicopter experience in one of their state-of-the-art Airbus helicopters.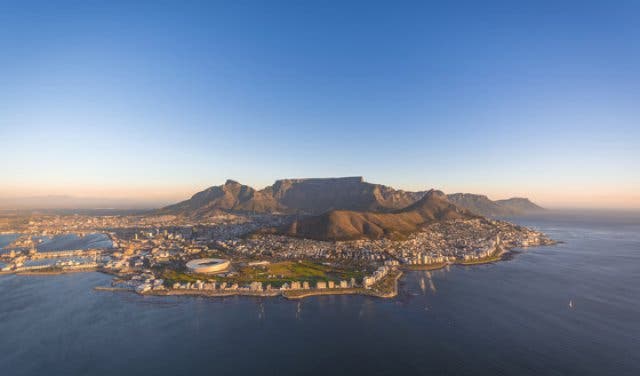 SWOOP OVER THE ENTIRE ATLANTIC SEABOARD
For R2 200pp, the 20-minute Atlantico Scenic flight will take you down the entire Atlantic Seaboard to Hout Bay, Chapman's Peak and back.
Can you think of a better way to celebrate a 10th wedding anniversary? And if a group of friends pitch in R100 each, you can suddenly buy a 30th birthday present that your friend will never forget.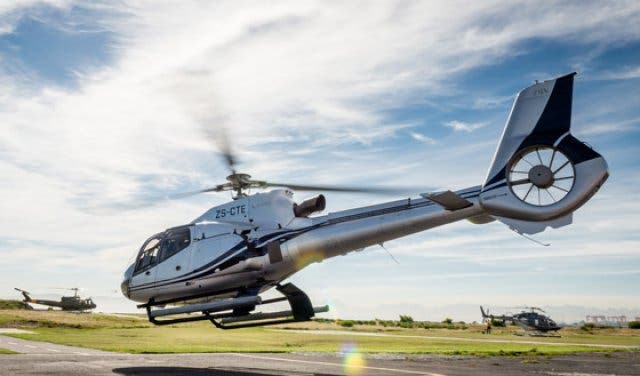 MORE VIEWS AND VALUE FROM THE COAST TO PENINSULA
For a different view of the city altogether, you could go with the Robben Island tour. It gives you incredible views of Cape Town, Table Mountain, the bay and the city's famous prison island for R2300pp. (Note: this return tour does not land on Robben Island.)
The Two Oceans tour takes you from the Atlantic to the Indian Ocean on the Simon's Town side. This tour also gets a free Table Bay safari ticket.
To include a trip to the Cape of Good Hope take the Full Peninsula.
Top tip: If you're looking to propose, Cape Town Helicopters has a 100% "yes" record on their famous "engagement flights".
Just phone ahead and they'll help make it a memory fit for the wedding album.
Tip: Make it a family affair – one child under 8 flies for half the price if flying two full paying adults.
And there are so many more reasons why Cape Town helicopters ranks in the top 3 unique things to do in Cape Town.
Even a 15-minute flip with Cape Town Helicopters is the most epic way to experience the Mother City.
---
Looking for exciting and unique things to do in and around Cape Town? Check our ultimate bucket list and top summer activities.
If it's a romantic experience you're after, see our ideas for things to do as a couple in Cape Town and romantic experiences in the Mother City.
And, in terms of gifting, also check out our guide to Mother's Day in the city.
--
Use our events section for an up-to-date overview of happenings in Cape Town. Also, don't forget to subscribe to our newsletter and if you have a smartphone, add capetownmagazine.com to your home screen for quick access on the go!
Follow us on Twitter, like us on Facebook, join our Google+ circle, connect with us on LinkedIn, check out our photos on Instagram and follow our Pinterest boards for updates on what's happening in and around the Mother City!