How to spot the International Space Station in Cape Town
The ISS will be crossing our morning skies in the next few weeks
Apart from the moon and the sun, the International Space Station will be the brightest thing in Cape Town's sky this month. You'll be able to see it with the naked eye, if you know when to look up. The ISS is as bright as a star and circles Earth every 90 minutes, letting its crew see 16 sunrises and sunsets a day. But it can be difficult to spot. Here's how you can catch a glimpse of the ISS on your morning walk.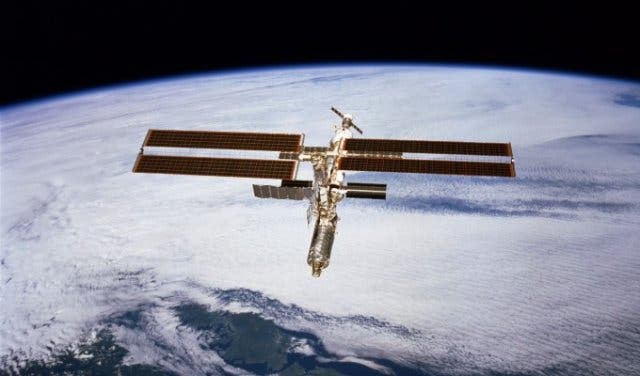 HERE'S WHEN TO KEEP YOUR EYE ON THE SKY
Between May 13 and May 30, the International Space station will orbit above the city of Cape Town. All sightings will occur in the early hours before sunrise. Each sighting is only a short glimpse, between one to six minutes long. Remember to look up during your morning walk, or set up outside with a hot cup of tea and a fold-out camping chair.
| | | |
| --- | --- | --- |
| Date | Time | How long |
| Wed May 20 | 6:39 AM | 2 min |
| Thu May 21 | 5:53 AM | 1 min |
| Fri May 22 | 6:40 AM | 6 min |
| Sat May 23 | 5:54 AM | 4 min |
| Sun May 24 | 5:09 AM | 1 min |
| Sun May 24 | 6:42 AM | 5 min |
| Mon May 25 | 5:58 AM | 2 min |
| Tue May 26 | 6:45 AM | 2 min |
| Wed May 27 | 6:00 AM | < 1 min |
IT'S ALL THANKS TO THE SUN
We can see the International Space Station for the same reason we can see the moon: the light of the sun is reflected off its surface. However, unlike the moon, the Space Station isn't bright enough to see during the day.
Because of this, as well as the fact that it is constantly moving, there's a relatively small window for sightings. It all depends on the time of day that the Space Station happens to be orbiting overhead.
A GIANT ORBITAL LABORATORY
What you're ultimately looking for isn't a bird or plane, but a giant orbital laboratory floating 408km above Earth. The ISS serves as a lab that allows crew members to test everything from biology and astronomy to experiments for prolonged exposure of life in space.
IT LOOKS LIKE A PLANE (OR A SHOOTING STAR)
The ISS remains visible in the sky for fairly short stretches of time, as it moves in and out of the Earth's shadow.
Keep an eye out for something that resembles a plane, but which is moving much faster (28 000km/h, to be precise), or a very bright and unblinking star.
---
Grant Webb is the guy to call to keep your grandparent connected in lockdown.
Save a buck or two with a restaurant special for every day of the week.
Watch as a caracal strolls through Simons Town.
---
Use our events section for an up-to-date overview of what's happening in the city, 'burbs and dorpies. Join our newsletter and get quick access on the go by adding us to your mobile home screen for the ultimate guide to discoveries in Cape Town.

Follow and like us on Twitter ❤ Facebook ❤ LinkedIn ❤ Instagram ❤ Pinterest for updates.