Pro Or Beginner, We Can Tell You Exactly Where To Catch The Best Waves
Plus, learn the worldwide etiquette, know the rules and a little safety advice from surfer Deon Bing
Last Update: 13 January 2020
Cape Town is home to an abundance of beautiful scenery, majestic beaches, and surf spots perfect for surfers of any skill level. From beginner spots like Surfers Corner in Muizenberg to the hectic aficionado-only waves of Dungeons and Off The Wall, there's no doubt you'll find your niche.

FIRST THINGS FIRST: THE BASICS
Cape Town local and veteran surfer, Deon Bing, does the daily surf report on Heart FM, and we spoke to him about the first things you have to know about surfing in Cape Town. Deon advises never surfing on your own: always take along a friend to share the waves. Check the wind conditions before jumping headfirst into the waves: you're looking for offshore winds (winds that blow from the coast out to sea) because they cause waves to break more slowly and cleanly. Luckily, the Peninsula comes with many offshore spots. Don't take valuables to the beach (leave them well-concealed in the car or at home). Deon also warns of the Mother City's brutal sun: wear the best, most waterproof sunblock you can find.

If you're heading to the beach early in the morning, listen to Deon Bing's daily surf report on HEART FM at 7:20AM. Bing also does daily surf vlogs on Instagram (check out @deonbinglive).

ETIQUETTE IS THE NUMBER ONE RULE
For our international friends, Bing says that surf etiquette is the same worldwide. "Count your waves in your chosen language," he advises, "to make sure everyone gets their fair share." Don't snake or paddle on someone's inside if they've been waiting longer than you. Other things to take note of, especially if you're new to the waves: wear a leash, don't throw away your board when a closeout wave approaches, avoid paddling where another surfer is riding a wave, don't drop in, and don't paddle beyond your ability. If you decide to go for a wave, don't pull out halfway through and waste it.

But most importantly: always have a good attitude.



LOOKING TO COMPETE?
According to Deon, some of Cape Town's top surf competitions are the Tiger's Milk Classic Muizenberg, Vans Surf Classic, La Muse Longboard Classic, and Western Cape Interschools, most of which have rotating venues across the country. There are trials for all kinds of wave-riding teams throughout the year. And don't miss the JBay Open every year, where the best pro surfers compete and hundreds of spectators line the beach to watch and have a good time. To keep up to date, check out the Surfing South Africa calendar online.



THE BEST SPOT FOR BEGINNERS
Muizenberg is a hub of activity with water slides, beaches, shops, and restaurants. The waves are ideal for surfers just starting out or even kids having their first lesson. Surfer's Corner is home to one of South Africa's oldest surf shops, The Corner Surf Shop, which opened in 1971. You can rent a board and wetsuit from Gary's Surf School, Surf Emporium, Lifestyle or Xpressions on the Beach and catch some kiff waves perfect for short or longboarding at the back. The front is perfect for beginners.
Difficulty: Beginner
Foot Traffic: Whether weekend or weekday, Surfer's Corner is always busy.
Photo by: Kelvin David Adams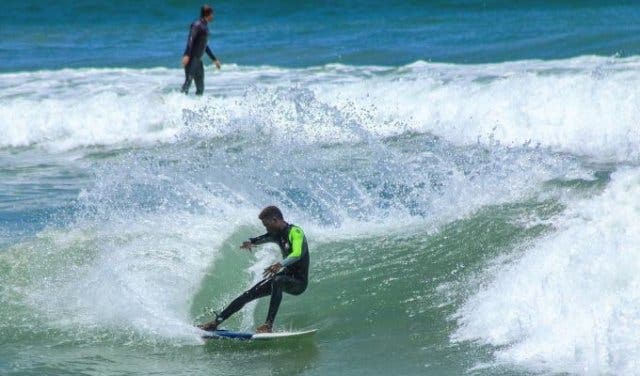 ARE YOU GOOFY OR REGULAR? KOMMETJIE CATERS TO BOTH
The waves at Long Beach in Kommetjie break in both directions, giving ample opportunity to surfers both goofy (right-foot forward) and regular. If you're catching a wave at Long Beach, odds are you'll also see longboarders, bodyboarders, and kneeboarders. Long Beach is one of the only spots in Cape Town where the break holds up in a south-westerly wind.
Difficulty: Intermediate
Foot Traffic: Kommetjie's Long Beach is crowded during the week, and over weekends it gets ultra-crowded.
Photo by: Brandon Robb



FOR SURFERS AND BODYBOARDERS ALIKE
Scarborough Beach is a hit for surfing in summer and spring, when winds and weather are favourable. The best time to go is when the wind is blowing east or northeast; when it is more southerly, it's better for kitesurfing. Just make sure you watch out for strong rip currents, as they are frequent at Scarborough Beach.
Difficulty: Intermediate
Foot Traffic: Scarborough is quiet over weekdays and weekends alike.
Photo by: Vanessa Christensen



THE BIGGER THE WAVE, THE BETTER, RIGHT?
Check out this gem between Melkbosstrand and Bloubergstrand: Big Bay. The surf is relatively consistent, so it's an ideal all-year-round surfing spot. It's known for the friendly locals, and there are plenty of coffee shops nearby for an after-surf pick-me-up. It's also the ideal beach for kitesurfing, but be careful not to kitesurf between the surfers.
Difficulty: Intermediate
Foot Traffic: Big Bay is empty during the week, with a few surfers over the weekend.
Photo by: Kristian Kn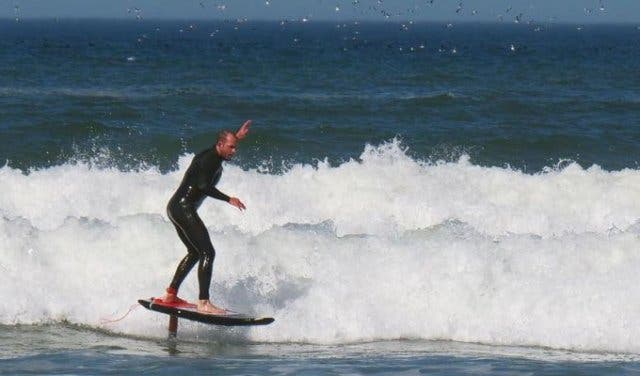 SURFING IN THE SHADOW OF THE TWELVE APOSTLES
Ideally located a mere five-minute drive from the city centre, you'll find Glen Beach, a surfer's mecca. It's between Camp's Bay and Clifton, and you'd be hard-pressed to find a spot with a better view of the Twelve Apostles mountain range. There are also plenty of restaurants and cafés to fuel up after a day of shredding. If you're new to the surf scene, just take note that locals are very protective of this spot, so take special care not to step on any toes, and remember to watch out for strong rip currents and rocks.
Difficulty: Intermediate
Foot Traffic: During the week you'll find a few surfers dotting the waves; over the weekend, it gets crowded.
Photo by: Tannah Harris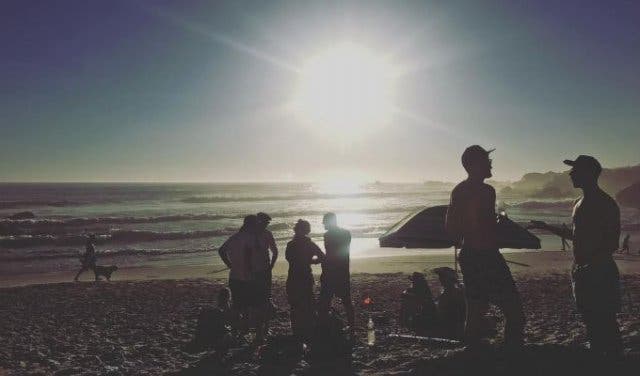 LLANDUDNO ISN'T FOR THE FAINT OF HEART
The water here is refreshing (to put it mildly) so make sure you have a good cold-water wetsuit if you plan to take to the water at Llandudno. You'll get an awesome swell at the back, and small summer waves upfront for bodyboarding. Make a day of it: sunbathing and sundowners are popular at Llandudno Beach.
Difficulty: Intermediate
Foot Traffic: Weekends at Llandudno are uber busy, but things calm down during the week.
Photo by: Luke Latty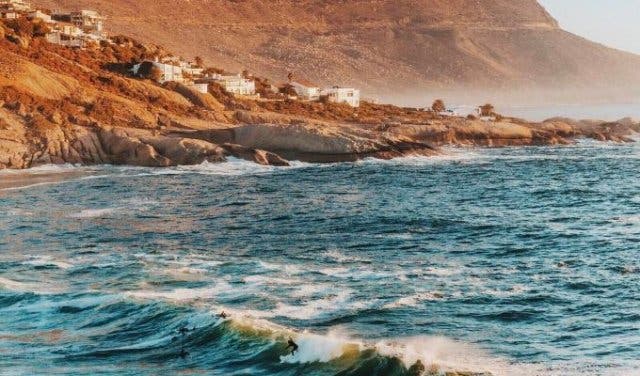 THIS SURF SPOT IS OFF THE CHARTS
Off The Wall does just what its name suggests: it breaks off the promenade wall in Mouille Point. This spot is quite reefy and dotted with rocks, so if you're just starting out, it's best to avoid Off The Wall. Because of the short, sharp take-off and steep drop, there's very little room for error. Waves can be hollow, so there are some barrelling opportunities if it's not too busy a day.
Difficulty: Advanced
Foot Traffic: Off The Wall is one of the less busy surf spots in Cape Town.
Photo by: West Coast Local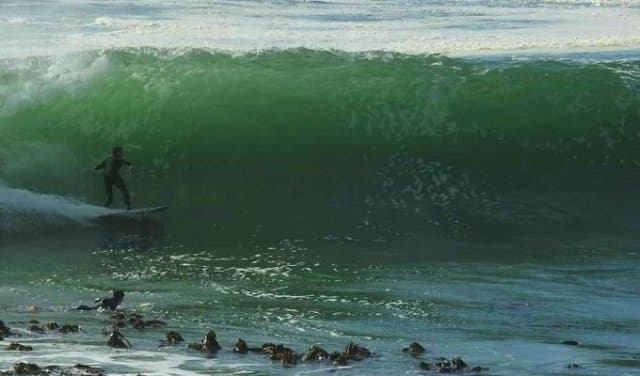 EDM DUO GOLDFISH'S FAVOURITE SURFING SPOT
Dunes is a popular spot for Cape Town's resident surf crowd, about 12km from Noordhoek Beach and a 40-minute drive outside the city centre. The spot is a little tricky since you need the south-easter to be blowing to catch a good wave, and it's quite a trek across the beach to get to the best spot (about 30 minutes of walking). Dunes is the favourite surf spot of locally-born electronic music duo, Goldfish.
Difficulty: Advanced
Foot Traffic: Neither weekends or weekdays get terribly busy; the crowd size depends on the weather.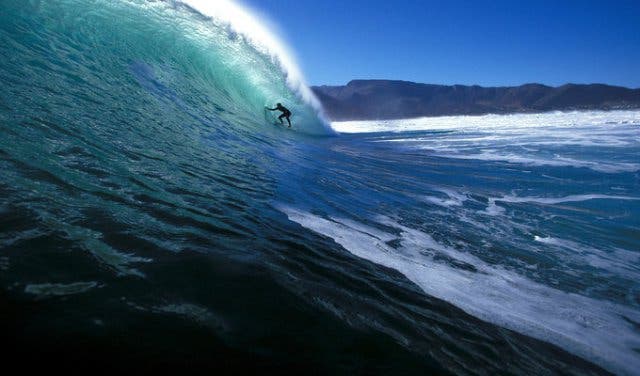 ARE YOUR BRAVE ENOUGH FOR 15-FOOT WAVES?
If you're looking for some of the heaviest, most exhilarating waves in Cape Town, look no further than Crayfish Factory in Kommetjie. It's ideal when there's a north or north-easterly wind. The waves can get rough and it's quite rocky, so if you're just starting out, this isn't your best bet. Waves can reach up to 15 feet in height and winter is the best time for surfing at Crayfish.
Difficulty: Pro
Foot Traffic: This surf spot is usually not very crowded.
Photo by: Kai Richards



THE GNARLIEST WAVES IN HOUT BAY
Dungeons was first surfed in 1984 by Cape Town locals Pierre de Villiers and Peter Button, according to EWN South Africa. It was later made famous by the popular surfing competition, Red Bull Big Wave Africa, and is certifiably not suitable to amateurs, with waves occasionally reaching up to 60 feet. Just outside of Hout Bay, Dungeons is all scenic beauty and monster waves: it's definitely not for the faint of heart.
Difficulty: Pro
Foot Traffic: There are usually a few surfers hanging around, both on weekends and in the middle of the week.



FAMILY FRIENDLY
Kammabaai is a firm favourite beach in Hermanus, popular with beach-bathers, swimmers, and surfers alike. There are often kids playing in the rock pools, swimmers enjoying the calm, shallow waters, and surfers and bodyboarders in the back line. There are nice hollow sections, so it's perfect for anyone still in the learning stages of surfing. On bigger-wave days, intermediate surfers will also find Kammabaai an ideal spot. Be wary of strong rip currents.
Difficulty: Beginner to intermediate
Foot Traffic: On sunny days, the beach will be full with families, but the number of surfers in the water depends on the waves.
Photo by: Thomas Okes



A GETAWAY TO THE GARDEN ROUTE
Herolds Bay Beach is a haven for holiday-goers from all over, located about 15km from George on the Garden Route. Over the summer school holidays, the beach can get crowded and the front waters are often busy with paddle boarders, bodyboarders, and swimmers. But if you swim out all the way to the back, there's the potential to catch some gnarly waves. It's best to go out when there's a light breeze blowing north or northwest. Watch out for the strong rip currents near the cliff and rocks to the front. And when you're tired of surfing, go lounge in the tidal pool just down the road.
Difficulty: Beginner to advanced
Foot Traffic: There are usually not a lot of surfers.
Photo by: Theo Coetzee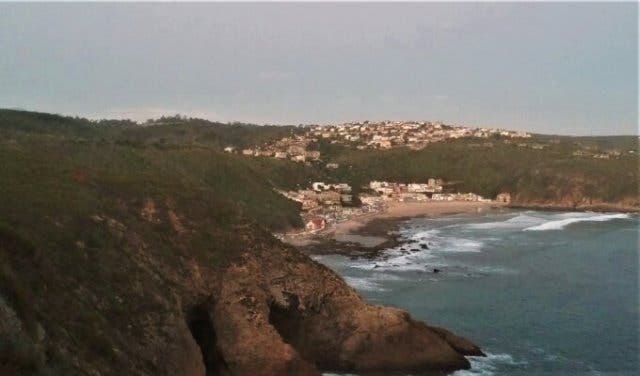 GOOD SURFING MOST OF THE YEAR
De Kelders near Gansbaai is another favourite amongst local surfers. Waves break to the left and right, and there are opportunities for great barrels if the weather plays along. The best swell direction is to the south-east, and keep an eye on the surf reports for wind from the north, as that's when you'll get the best surf. Look out for the wreck of the HMS Birkenhead as you make your way to De Kelders.
Difficulty: Beginner to advanced
Foot Traffic: During the week De Kelders is relatively empty; it gets busier over weekends, depending on the weather and waves.
Photo by: Christophe Caranchini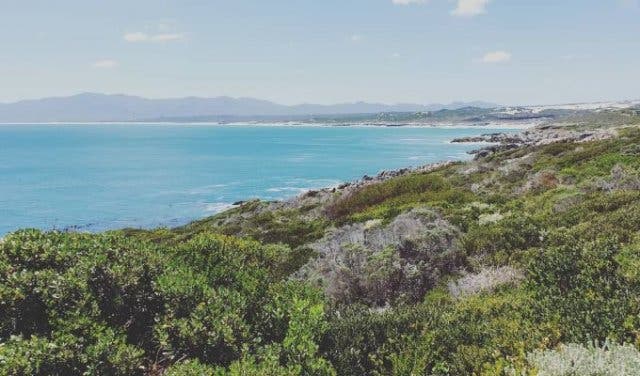 PERFECT IF YOU DON'T MIND COLD WATER
Yzerfontein is a popular holiday destination for those looking to make a weekend of going to the beach. It's also well-loved by surfers, local or not. It has an exposed beach that breaks to the left and the right, and reef breaks that are reliable throughout the year. Plus, while you're there, check out the Khwa ttu Dream Museum.
Difficulty: Advanced
Foot Traffic: Yzerfontein can get crowded when waves are gnarly.
Photo by: Anneke Mynhardt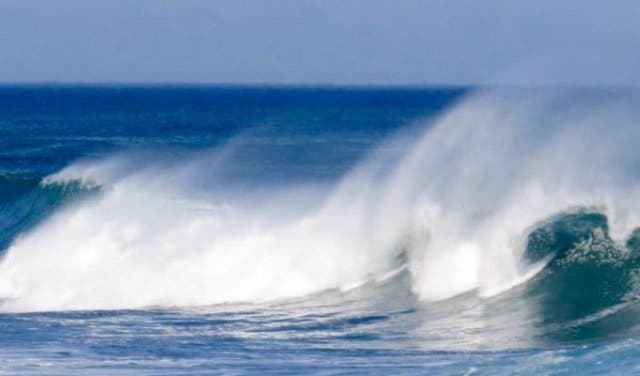 ONRUS IS A LEKKER SURF SPOT
Onrus (and its beach) is located near Hermanus and is a favourite spot of MatiesSurfing because the waves have a consistent swell. It's pretty sheltered, making it ideal for summer surfing. Breaks are mainly to the right, and always be cautious of the submerged rocks on the road-side of the beach. Onrus Beach is also great for bodyboarding. Plus, when you're done, grab a cold one at The Milkwood, just off the beach.
Difficulty: Beginner to advanced
Foot Traffic: Out of the holiday season, the beach doesn't get very busy; you shouldn't have trouble finding a wave to catch.
Photo by: Andrew Raymer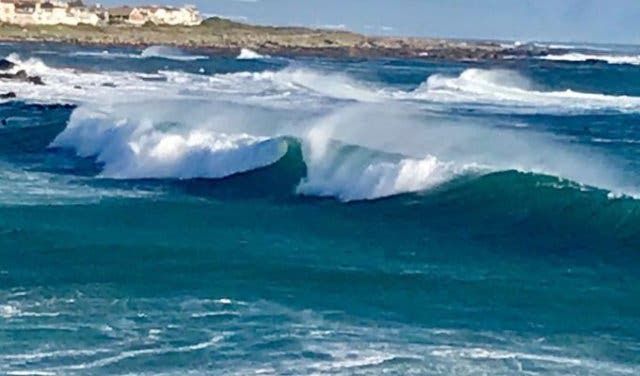 ---
Want to see a ghost riding a motorbike? Check out Hout Bay's Deus Ex Machina Homestead Of Perpetuity.

Splash summer away at one of these Western Cape beaches.
Master stand-up paddling with High Five.
Be safe in the water with these guidelines for safe surfing and shark attacks.
Hide from the heat at one of these tidal or rock pools.
Find your zen with these Cape Town yoga studios.
Braai spots, snorkelling, beaches and more in a paradise cove at Oudekraal.
---

Use our events section for an up-to-date overview of what's happening in the city, suburbs and dorpies. Join our newsletter and add us to your mobile home screen for the ultimate guide to discoveries in Cape Town.
Follow and like us on Twitter ❤ Facebook ❤ LinkedIn ❤ Instagram ❤ Pinterest for updates.