Helicopter Rides Cape Town: the Most Epic Way to Experience the City
Fly over the Mother City with Cape Town's #1 helicopter operator on Tripadvisor
You don't have to be a high flyer to enjoy a breathtaking helicopter ride over Cape Town. Cape Town Helicopters has a package to suit every budget and occasion, from a 20-minute ride over the Atlantic Seaboard to a 3-hour flight into the Winelands.
Plus, their Airbus H 120s and 130s offer a smoother, quieter ride that is eco-friendly too. It's no wonder Cape Town Helicopters was voted Cape Town's #1 helicopter operator on Tripadvisor.
VOTED MOST UNIQUE WAY TO SEE CAPE TOWN
Cape Town is a helicopter's paradise. In 20 minutes you can take off into the bright blue sky and experience some of the world's most spectacular scenery – dramatic mountains, curvaceous coastlines and a city skyline – in one unforgettable package. So it's not surprising that helicopter rides consistently rank in the Top Three unique Cape Town experiences. Or that the V&A Heliport, where Cape Town Helicopters operates from, is the busiest in Africa.
SOME DAILY CAPE TOWN HELICOPTERS FLIGHTS
Scenic flights

Duration

Price

Hopper – hop-on flight taking in all the city's sights

15–20 mins

R1550pp*

Atlantico – along the Atlantic coast taking in all the major sights

20 mins

R2200pp**

Robben Island – for a unique new perspective on this heritage site

20 mins

R2300pp**

Two Oceans – from city the down Atlantic coast through to False Bay

25 mins

R2950pp**

Full Peninsula – spectacular V&A to Cape Point flight

50 mins

R5800pp**

Winelands tours – choose from Durbanville and Stellenbosch to Franschhoek and Paarl

Approx. 3 hours

R6400–R18200pp** (depending on destination)

Adventure flights – West Coast, shark-cage diving combos and safari flights

Approx
3–6 hours

R9000–R25500pp** (depending on destination)

VIP flights – Langebaan to Arabella golf estates and Winelands lunches

Approx
4–6 hours

R11000–R13500pp** (depending on destination)

Experiences – flights including clay pigeon shooting and a Harley Davidson ride

Approx. 3 hours

R6600–R17600pp** (depending on experience)

* Get it for only R1261 via our exclusive this secret link.
** Or get 10% off by using our unique booking code: FlyAirbus
Plus on the Two Oceans tour you get a free Table Bay Safari ticket.
THEIR HIGH-TECH AIRBUS IS MORE STABLE AND SAFER
So what makes Cape Town Helicopters #1 helicopter operator in the Mother City? Vision. When long-time pilot and aviation enthusiast, Neil Warren, took over operations three years ago, he reimagined the Cape Town Helicopters experience, from the ground up. And it shows.
Cape Town Helicopters takes everything to the next level. Instead of the standard Bell choppers, their high-tech fleet of Airbus H 120s and 130s offers a smoother, quieter ride. The Airbus is more costly to buy and maintain, but they are much more stable in high-speed winds, safer because of their design and advanced technology, and much quieter thanks to enclosed fenestron tail rotors.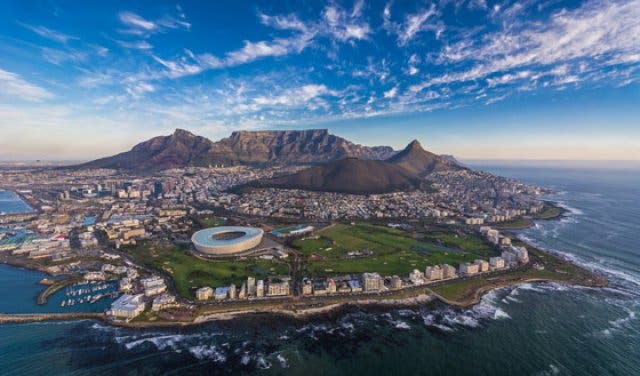 DAILY TOURS AND SAFARI FLIGHTS
Plus, their helicopters are the only ones legally allowed to fly into sensitive areas. This allows them to offer daily tours and safari flights to Sanbona Wildlife Reserve and Aquila Game Reserve.
The reviews speak for themselves."It's a once-in-a-lifetime experience!" says Heiko K from Köln, Germany."Stunning views of Cape Town. Professional and friendly pilots. And great importance is given to safety," comments Sunetra B of Singapore.

LAGER WINDOWS, BETTER VIEWS
If you're going to get up high, it pays to make sure you have the biggest window views. This is where Cape Town Helicopters really delivers. Their helicopters all boast a 270-degree view from the air, much wider than the Bell chopper alternatives. What's more, their high-tech flights are all air-conditioned and allow for the use of soundproof headsets with voice-activated microphones that add that extra touch of comfort to the experience.
Cape Town Helicopters never stops creating a better experience for their guests. That's why they recently added a packaged video option. "We found that people were so taken with the views, that they get carried away with taking pictures they forget to relax and just enjoy the experience. Now we can record the flight on four HD cameras – two inside the cab, two outside – and give them a packaged video of their epic Cape Town Helicopters experience," says Herman Geldenhuys, the commercial manager.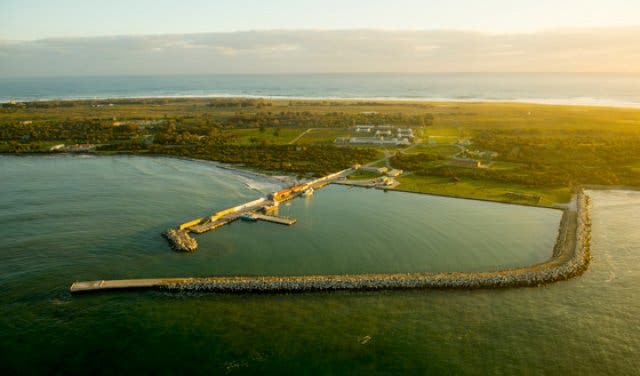 DELIGHT IN THE DETAILS
The Cape Town Helicopters experience starts long before you board the craft. They offer a transport service from the malls and districts around the V&A to the helipad, if you phone ahead. In fact, they will even pick you up from Cape Town International Airport, where you can do your awesome helicopter experience first and then land at the V&A, or you can do it the other way around and have your epic helicopter experience as a farewell to Cape Town before landing at the airport, where you will be driven straight to the Departures Hall. We recommend the Full Peninsula or Two Oceans flights.
Walk-in customers are welcome too. They do around 35–50 flights daily, ranging from scenic city and Atlantic Seaboard flights; Cape Point tours; golf tours to Hermanus, Langebaan or Paarl; flights up the West Coast or to a game reserve.
The ground team is highly organised and able to schedule your flight with maximum precision and minimum waiting time.
ALL PILOTS ARE QUALIFIED TOUR GUIDES
One of the highlights of the Cape Town Helicopters experience is the pilots. Cape Town Helicopters runs their own flight school, so they get to choose the best and brightest pilots for their crew, which includes two female pilots. All the pilots are certified tour guides, who love nothing more than sharing their local knowledge with guests.
During a typical flight down the Atlantic Seaboard, your pilot will take off from the helipad and do a slow curl back for a money-shot of Table Mountain and the city. Throughout the journey they highlight points of interest in the city, telling you about its history, places and people as you head down the coast.
By the time you reach Camps Bay, you'll be level with Lion's Head at around 200 feet (669m), giving you the ideal vantage point from which to finally see how this famous peak got its name. About a minute later, you reach the 12 Apostles and now draw level with Table Mountain at around 3000 feet (close to 1000m). Get the full experience on Cape Town Helicopters' Atlantico and Hopper flights, which also gets a free Table Bay Safari Ticket.
The Cape Point tour brings you face to face with Africa's most south-westerly point - an absolute treat. The pinnacle comes when your pilot flies you out, far beyond the lighthouse, over the ocean, and then curls back so that you get that one-of-a-kind view of the point and the Cape of Good Hope from the air.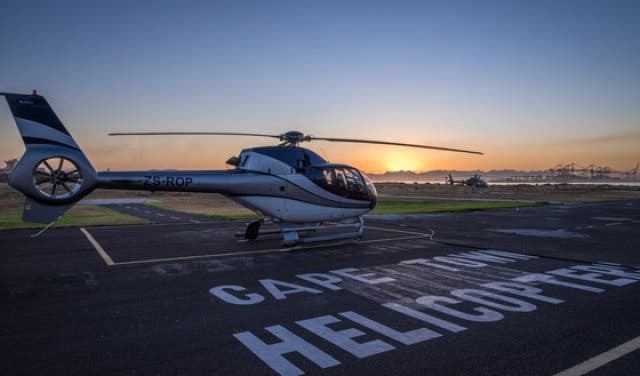 FROM ENGAGEMENTS TO CORPORATE EXPERIENCES
The Cape Town Helicopters experience is so magical, it's not surprising they do about 26+ "engagement flights" every year. There's a fair bit of collusion beforehand to make sure the pilot signals you at the absolute perfect time to pop the question mid-air (with the perfect backdrop for the best pics and video of course).
On the higher end of the scale, the clay pigeon tour flies guests up the False Bay coast to Lourensford Estate, where they do 25 shots with four different shotguns, making it a popular experience for big birthday bashes like a 40th or 50th.
And for The VIP corporates and clients the Winelands lunch experiences and safari flights are ideal.
Tip: Make it a family affair – one child under 8 flies half-price if flying two full paying adults.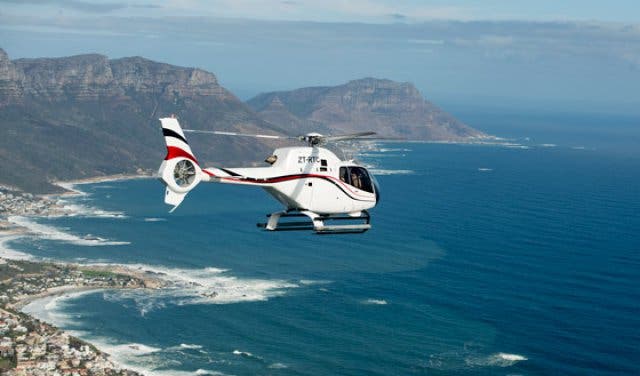 The Cape Town Helicopters does about 26+ "engagement flights" every year.
---
Big, loud and exciting … That's The Stellenbosch Airshow.
Want Cape Town water adventures everyone can join in on? Check out these ultimate ocean experiences to tick off your bucket list.
Looking for exciting and unique things to do in and around Cape Town? Check our ultimate bucket list and top summer activities.
We also have a comprehensive look at top day tours as well as team building and end-of-year function ideas.
In terms of gifts, check out our guide to Mother's Day in the city. And, if it's the romantic experiences you're after, see our ideas for Valentine's Day offers and things to do on 14 February.
---
Use our events section for an up-to-date overview of happenings in Cape Town. Also, don't forget to subscribe to our newsletter and if you have a smartphone, add capetownmagazine.com to your home screen for quick access on the go!
Follow us on Twitter, like us on Facebook, join our Google+ circle, connect with us on LinkedIn, check out our photos on Instagram and follow our Pinterest boards for updates on what's happening in and around the Mother City!