What You Should Be Getting Up To On First Thursdays - Wine Tasting, Dancing And More
From live music, DJs pumping the crowd and outside dancefloors to pop-up bars and wine tastings
Last updated: 19 December 2019

Every first Thursday of the month, art-fundies, museum-lovers and party enthusiasts congregate in the vibey heart of Cape Town in search of great vibes, free entrance, dance parties that go on into the early morning hours and shops that stay open until late. You can expect to find something new every month so keep your eyes out for updates. For now, check out this list of places that'll have their doors open on the next First Thursday.
BLOCK PARTY!
What happens when you block off Longmarket Street on First Thursdays? It's a real party, with live music and three outside bars - and there is no cover charge. You can expect sounds by the likes of DJ Rene The Frenchman who will present a mix of old and new world music with live instruments (percussion and other including Kirya Kuti Project on saxophone). Exclusive bottle service tables are available where you can sit down at a table and get VIP service. Later, after dinner, head downstairs to the club below. It's called Catacombs and it opens after 8pm offering a dancefloor, bar, and DJ booth every First Thursday. You can even host your end-of-year function at La Parada on Bree.
When: 5pm–1am
107 Bree Street | +27(0)21 426 0330 | breestreet@laparada.co.za

EXQUISITE TAPESTRIES AND A KIDS PLAY AREA
The Ladder On 136 is a working traditional arts studio run by practising artists Nicholas and Anastasia. They will be exhibiting hand-stitched Suzani carpets, for example: beautifully embroidered silk suzanis made in Uzbekistan from Manina Bauman's collection. There's a coffee shop with daily bakes and light snacks, and they also host art workshops on some evenings. There's also a play area for kids, so parents won't want to miss this stop. The studio is open on First Thursdays at The Ladder on 136.
When: 5pm–8pm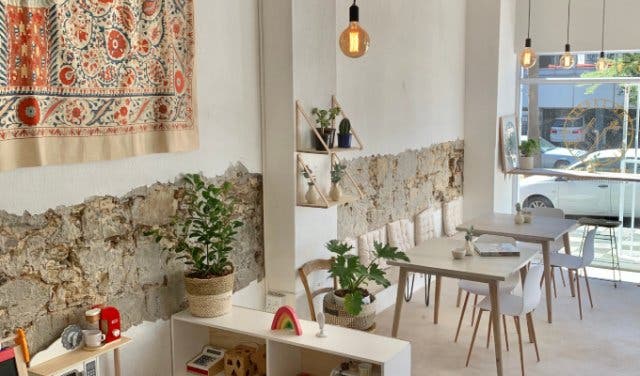 136 Bree Street | Cape Town | theladderon136@gmail.com | +27(0)82 451 1572

POP-UP BARS AND LIVE MUSIC
Bree Street is the vibey main drag that links most First Thursdays events. Here, you'll find a section of the road cordoned off to make way for The Station on Bree night market. There's gin and beer tasting, live music (catch acts like Carlo Massa, DJ COD or Adyn Dust Aenmey for house, EDM, and dance music) and you can shop from local vendors - clothes to crafts to jewellery. There is plenty of room to dance and you'll be spoilt for choice with a smorgasbord of outdoor bars and food stalls. Book your table to secure a spot: it gets busy. Entry is free and after 10PM, the party moves underground at Station On Bree.
When: 6PM–late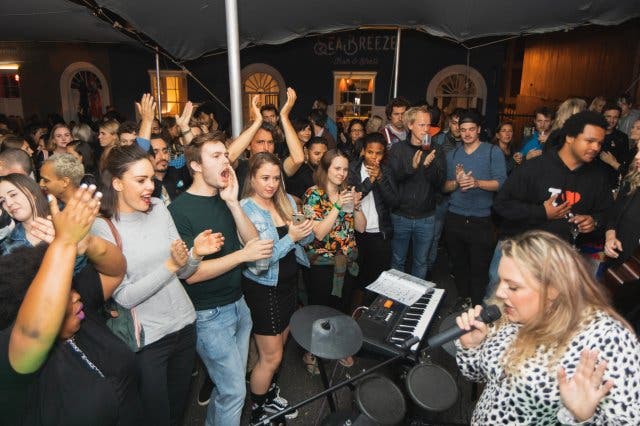 207 Bree Street | Cape Town City Centre | support@thestationonbree.co.za | +27 (0)21 422 0566

LIKE THE SIGNAGE SAYS: ARCADE IS HOT AS F*CK
Another member of the Bree Street family is Arcade Café, with a food menu that covers everything from pizza to salads to cafe-style eats like prego rolls and nachos. On First Thursdays, Arcade transforms into a party mecca, with bottle giveaways from chosen liquor sponsors and DJs spinning from 8PM onwards. Table bookings are recommended, and it's a guaranteed good night for you and all your friends at Arcade Cafe.
When: 11:30AM–2AM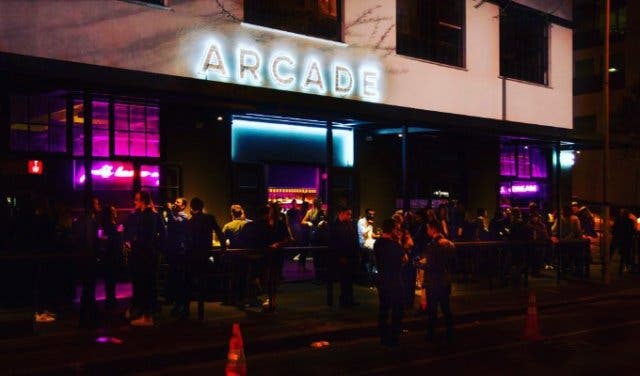 152 Bree Street | Cape Town City Centre | hello@arcadecafe.co.za | +27 (0)60 861 0511
PARTY ON THE CORNER OF WALE AND BREE
Clarke's Bar and Dining is a popular after-work spot to chill with friends or colleagues. Add to that a pop-up bar on the sidewalk in front of Puma Select, plus a colourful DJ box right next to it, and you have yourself the perfect First Thursday recipe. From house music to hip hop to old-school dance hits, the sidewalk is a haven for bopping along while you enjoy your drink. And it's on Bree Street, so you're walking distance from every other party in the city. Book a table with to ensure you get a piece of the action at Clarke's Bar and Dining.
When: 6PM–late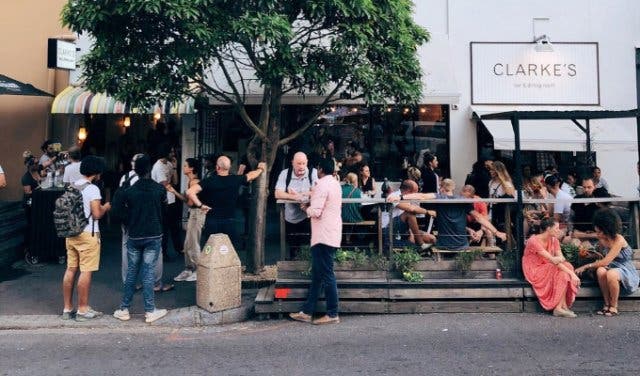 133 Bree Street | Cape Town City Centre | bookings@manfood.co.za | +27 (0)87 470 0165

AN ATTIC PARTY WITH A JAPANESE SHRINE-INSPIRED BAR
Head to Tjing Tjing on Longmarket Street for First Thursday with flair. The rooftop bar opens right as the workday ends and stays open until late, with specials on cocktails and Jack Black on tap (1L for R90). Or grab a bite downstairs at Momiji or Torii. Fun fact: Tjing Tjing's rooftop bar was voted one of the best new bars worldwide by Condé Nast Traveler in 2012. You don't have to make a reservation (first come, first served) to enjoy First Thursday with a Japanese twist at Tjing Tjing.
When: Tjing Tjing Rooftop Bar: 5PM–late


165 Longmarket Street | Cape Town City Centre| info@tjingtjing.co.za | +27 (0)21 422 4920 | +27 (0)21 422 4374

WINE TASTINGS LED BY EXPERTS
Leo's Wine Bar opened in November 2019, making it relatively new to the First Thursday scene. But that doesn't mean it hasn't dived head-first into the action. For First Thursday, Leo's does a winery takeover: a different winery introduces its wines to the public and offers select options by the glass throughout the evening. The winemakers will be available to talk through the tastings from 6PM to 8PM, but the wines are available to buy until closing. It's worth while, First Thursday or not, to pay a visit to Leo's Wine Bar.
When: 5PM–11PM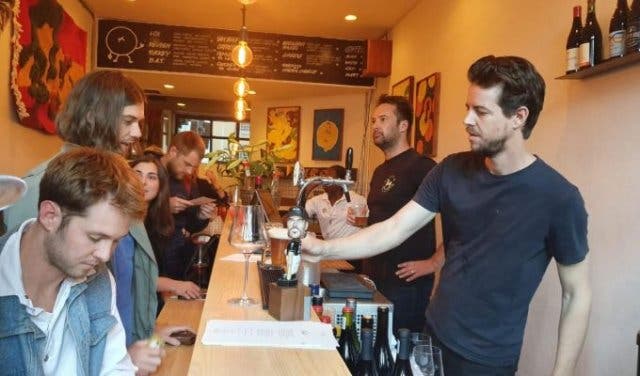 120 Bree Street | Cape Town City Centre | mfreemantle@gmail.com | +27 (0)76 042 0224

IT'S GIN O'CLOCK
Why wouldn't you want to spend First Thursday at a hidden speakeasy? Step into Honest Chocolate Café, and maybe grab a sweet treat on the way through to the Mediterranean-style courtyard. Here you'll find The Gin Bar, long-standing meeting point for First Thursdays. Sip on delectable gin cocktails while you unwind and start your weekend one day early. The bar also does regular gin tastings led by friendly and knowledgeable staff between 3PM and 5PM (you'll need to reserve a tasting in advance).
When: 3PM–midnight


64A Wale Street | Cape Town City Centre| hello@theginbar.co.za | +27 (0)71 241 2277

30 MINUTES OF CINEMA GOLD
Cape Town's favourite cinema, the Labia, hosts Cinema Club every First Thursday. They screen a collection of short films, with one playing every hour on the hour from 6PM to 9PM. A new curator takes the reigns every month, sourcing material from across the globe for 30-minute entertainment in the plush, intimate African Cinema screening room. Tickets and popcorn are free, and are available on a first-come, first-served basis (tickets limited to two per person - arrive early because they only seat 50). Travel back to the golden age of cinema with The Labia Theatre.
When: 6PM–09:30PM


68 Orange Street | Cape Town | labiatheatre@telkomsa.net | +27 (0)21 424 5927

TAKE A CULTURE STROLL
On First Thursdays, dozens of Cape Town's museums and galleries stay open late, and there are plenty of temporary exhibitions, performances, and installations. The list is almost endless, with main hubs in the city centre and East City. Galleries such as 99 Loop Gallery, Open 24 Hours, and Youngblood Gallery have contemporary exhibits that change frequently, so you can visit again and again. There are almost endless options, so we recommend grabbing a map of the route (they're handed out on the night at participating galleries and museums). You can plan your walk ahead of time by choosing your favourite museums and galleries to visit.
When: 6PM–late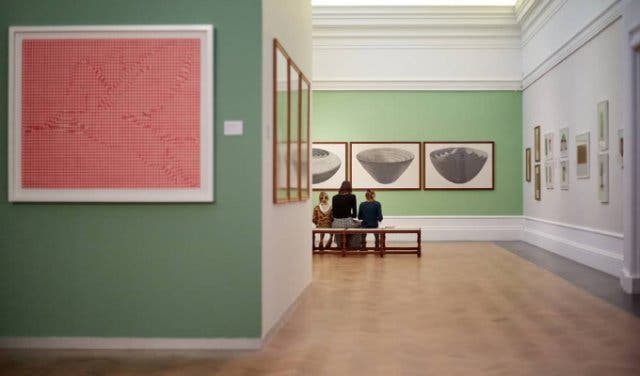 Various| In and around Cape Town

---
Enjoy a CBD infusion experience on Long (CBD optional) at Infusion On Long.
New Year, new resolutions: set your goals with a vision board at the Art Therapy Vision Board Workshop.

Check out First Thursdays at Frogitt & Vonkel.

For live music, dancing and tapas, head to La Parada on Bree for Sunset Sounds.

Free exhibition and walk-about with artists at Everard Read.

Love the vibrancy of the inner city? Here are 17 things to (re)discover Bree Street in Cape Town.

Enjoy authentic South-Indian flavours at Sundoo in Sea Point. It's a good place for a business lunch or to get together for dinner.

Find your favourite rooftop bar.

---

Supercharge your event? Our Events Support Programme gets results. Contact support@capetownmagazine.com or +27 (0)21 565 0415.

Use our events section for an up-to-date overview of what's happening in the city, suburbs and dorpies. Join our newsletter and add us to your mobile home screen for the ultimate guide to discoveries in Cape Town.

Follow and like us on Twitter ❤ Facebook ❤ LinkedIn ❤ Instagram ❤ Pinterest for updates.