Grub and Vine Matches Fine Dining with Bistro To Perfection
Chef Matt Manning does it all with so much flair
Don't be fooled by the casual name. Grub & Vine is not your average Bree street bistro. It is casually elegant, yes, with an affordable menu of simple seasonal fare, true. But that's where the bistro stops and Chef Matt Manning's flair for creating refined dining experiences begins.


THE PERFECT PAIRING OF SKILLS
It all starts with his careful choice of staff, from chefs to the in-house sommelier, whose interesting choices are such a revelation that guests are often heard exclaiming: "We only knew one of the wines of the evening!"
Every one thing complements the next at Grub & Vine. The elegant Japanese plating is a match for the perfectly pickled, poached and char-grilled delicacies served to the beat of blues and the bustle of 40 patrons oohing and aahing over their two-, three- or five-course dinner delights.


BRINGING REFINED DINING TO A BISTRO SETTING
Fine dining can be terribly fancy, sometimes perfect to a fault and, for the most part, unaffordable. That's why many people veer towards its more casual eatery, the bistro.
What if there was another way, a fusion of the two? Perhaps a private chef with the vision to bring his London training, event experience and passion for social dining to his kitchen and your table? Someone like Chef Matt Manning, who perfected his trade in some of London's finest Michelin-starred restaurants under the tutelage of Gordon Ramsay, Marcus Wareing, Alyn Williams and Bryn Williams – to name drop a few.
But then you bite into his succulent pan-fried rainbow trout with pea-and-bacon fricassée, brown shrimp and braised baby gem and you realise, here's a chef dishing up something local in focus and flavour. He calls it, "no-nonsense, good grub. Beautiful produce and honest cooking."


CREATING A CASUAL, REFINED DINING EXPERIENCE
True to Manning's style, the menu is not fussy, but it is layered to perfection. This is a place where smoked kudu loin, baby fennel, parsnip purée and beetroot-and-venison sauce meet in a unique pairing of flavours and textures. It's a place where you might come for the food and return for the atmosphere and staff or, as one guest found: "I personally loved the open kitchen where you can watch the food being prepared while you sip your drinks and await your meal."
In the Grub & Vine experience menu, the evenings are the main course, serving up a vibrant atmosphere that complements the food and highlights the social dining aspect of Manning's vision and ventures.
In the evenings, patrons get to choose between a two-, three- or five-course menu, starting at R310 for two courses, unpaired, and ending with R995 for five courses, each paired and served by a sommelier.


By day, the a la carte menu has starter and main portions for each dish. You could start with a small portion of pickled vegetable salad and saladini and vinaigrette, and pair it with roasted pumpkin risotto with pickled sprouts and Parmesan for your main.
But then again you might want to start with curried West Coast hake, cauliflower, samphire, white beans and veloute and follow it with the six-hour confit pork belly, pork fillet, baked pumpkin, braised apple and pommes purée. Just make sure you save room for desserts like the sticky toffee pudding with prune purée. It's a treat.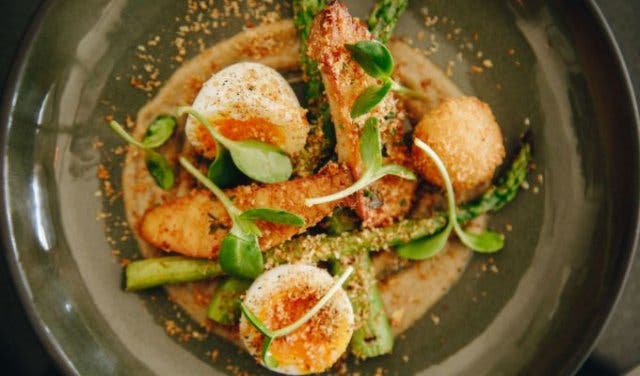 MORE THAN JUST ANOTHER BREE STREET BISTRO
Grub & Vine is guaranteed to become an inner-city treasure. Located on the first floor overlooking Heritage Square, the restaurant puts you in the heart of the city without the street noise.
So it's perfect for a quick and quiet business lunch. Blues music is kept to a low tempo and the natural light filtering in over the decor gives the space a cool, contemporary feel. The restaurant also offers a Prix Fixe menu for lunch, two courses for R295pp, and three for R395pp. For dinner, the two-course menu costs R310pp, three courses R425pp, and five courses with wine pairing at R995pp.
A SOCIAL SPACE FOR PRIVATE EXPERIENCES
Just behind this bustling bistro is the Green Room – an event space that hosts private dinners and the popular #VineNight – a complimentary wine tasting from a select group of wine farms, between 6pm–7pm every Wednesday evening. The Green Room is the perfect space for private dinner parties and functions (you can mail events@mattmanningchef.com for enquiries).
A level up is The Chef's Studio – an industrial space kitted out with state-of-the-art cooking stations, where private guests get cooking experiences. It starts on Tuesday night with Manning's How to Cook series of home cooking demonstrations. At this weekly class, guests team up and tackle an everyday dish before sitting down for a meal.
The studio is also home to Manning's One Ingredient, the five-course cooking and dining experience that centres around one key ingredient. "It's for those who are as excited about what goes into creating a beautiful dish, as they are about eating it," says Manning. "It's less serious than a cooking lesson, but more interactive than a dinner."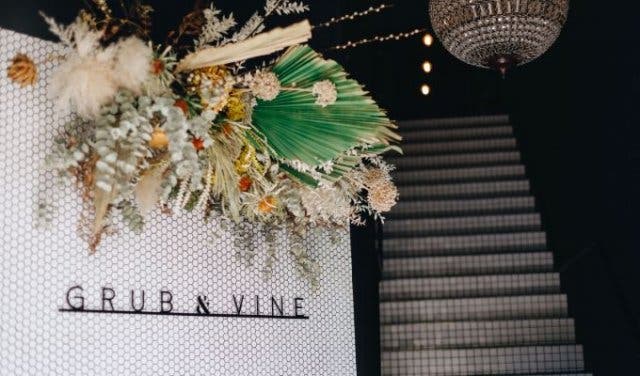 A DATE AT 103 BREE STREET
There's a lot going on food-wise on Bree Street that proprietors really have to bring something special to the table for people to even look up. Grub & Vine more than captures your attention, it brings everything a level up. The restaurant might be the main course, but everything else at the Green Room and Chef's Studio measures up expertly as an entree.
Tip: #VineNight is free, but book because space is limited to the first 24 people.
Read more about Chef's Studio, and Grub & Vine's weekly wine tasting.
---
Coming late 2019: La Colombe's Indian-inspired eatery, Epice Franschhoek.
Love the vibrancy of the inner city? Here are 17 things to (re)discover Bree Street in Cape Town.
Oenophiles check out where you can try the Cape's top wine tastings and various wine regions and routes.
Wine pairs best with fine food, so have a look at some fine dining options in Cape Town.
---
Use our events section for an up-to-date overview of what's happening in the city, suburbs and dorpies. Join our newsletter and add us to your mobile home screen for the ultimate guide to discoveries in Cape Town.
Follow and like us on Twitter ❤ Facebook ❤ LinkedIn ❤ Instagram ❤ Pinterest for updates.