Whale, Wine and Wors Tours with Wine Flies
Hop aboard a fun-filled minibus and explore the hidden gems of the Western Cape
Get whisked off to three popular destinations just outside Cape Town – Stellenbosch, Grabouw and Hermanus – and discover the hidden gems of the winelands in a laidback and offbeat manner while tasting wine straight from the barrel, sampling handcrafted cider or taking a scenic drive to Gordon's Bay, where you'll taste some experimental beers. This popular tour is put together by boutique tour company, Wine Flies.
WHAT TO EXPECT FROM THE WHALE, WINE AND WORS TOUR
The first stop is a visit to ing one of the oldest towns in South Africa (Stellenbosch) where explorers will::
Stop over at the Victorian-style trade shop Oom Samie se Winkel, which opened in 1904. The historic store is bursting with South African knick-knacks. Cheetah hides hang from the ceiling, vintage gramophones, coloured feathers, posters, newspaper clippings, and porcelain dolls adorn the creatively crammed space.


Head to the Middelvlei Wine Farm for a wine tasting and cellar tour (sampling vino straight from the barrels is also on the cards).


Arrive at the Elgin Valley after a short, scenic drive, and meet "garagiste" William Everson at his converted shipping container, from where he sells his handcrafted ciders and have a chance to sample some of his drink, which is paired with biltong and boerewors respectively.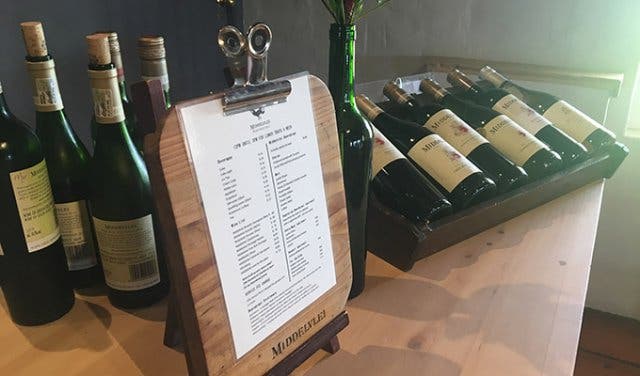 Then it's off to Hermanus for lunch:
Sample award-winning wines at La Vierge, nestled in the Hemel and Aarde valley.
Indulge in some local cuisine, battered hake, calamari and fries, served with a cocktail from the chef's choice at Fisherman's cottage – a stone's throw away from the cliffs overlooking the whales. Binoculars are provided by Wine Flies.
Take a trip around Clarence drive, considered to be among the top 10 scenic drives in the world, hugging the False Bay coastline en route to Gordon's Bay for a final tasting at Red Sky Brewery, a local craft producer brewing some experimental and exciting beers.
COST AND BOOKING FOR THE WHALE, WINE AND WORS TOUR
Offering great value, this Wine Flies tour is R880pp, which includes all tastings, pairings and lunch. It runs every Tuesday and Thursday from 7:30am to 6pm (July to December).
The Wine Flies team can pick guests up from their accommodation in the city centre area and also drop them off after the tour. Wine Flies can accommodate up to 13 guests and groups of five or more, making a reservation together, get an incredible discount. To book, contact Wine Flies on +27 (0)21 462 8011, via email info@wineflies.co.za, or online.
---
All about the boerie and the tech at Boerewors King.
Looking for accommodation in Stellenbosch, or perhaps you'd like to let loose and visit some nightclubs in Stellenbosch?
There are also plenty of other things to do in Hermanus.
---
Supercharge your event? Our Events Support Programme gets results. Contact support@capetownmagazine.com or +27 (0)21 422 2444.
Use our events section for an up-to-date overview of what's happening in the city, suburbs and dorpies. Join our newsletter and add us to your mobile home screen for the ultimate guide to discoveries in Cape Town.
Follow and like us on Twitter ❤ Facebook ❤ LinkedIn ❤ Instagram ❤ Pinterest for updates.
---