Save on your kids' birthday party with an unforgettable weekend special with Battlefield Live SA
Make your kids' birthday party extra special with outdoor laser tag with Battlefield Live SA
Need the birthday party to be more exciting than Xbox? Think outdoor laser tag with Battlefield Live – and get some serious savings as well.
The up-and-at-'em laser tag company brings the cost of kids events down by over R500 and offering parents the special total price of R3100 when they book a weekend party for 20 youngsters at Wynberg Park (this works out to around R160 per child when it's usually R195). To celebrate their new Altydgedacht Wine Estate venue in Durbanville, they're offering an even further reduction of only R2730 for 17 kids (pay for 14, get 3 free).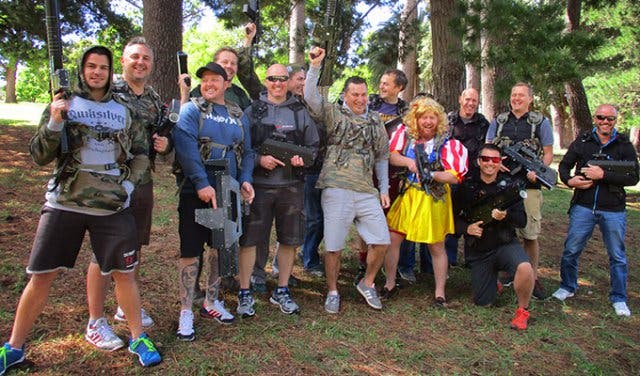 The two-hour war simulation activity is a dream come true for any child who's ever played video games like Call of Duty or Battlefield, as it gives participants the opportunity to step into a live version of their favourite Xbox challenge. Kids are kept enthralled for the full time as instructors run them through various action-packed military-style scenarios, like 'Capture the Flag', 'VIP Escort' and 'Base Domination', that require little ones to work together as a team to achieve specific goals.
Parties usually take place in Wynberg Park or Altydgedacht Wine Estate so boys and girls can run around in a natural forest setting while 'shooting' their opponents with realistic state-of-the-art bluetooth connected guns. The package also includes military vests and war paint (so young'uns can really get into the zone) as well as battle-themed email invitations and photographs of your event. The Battlefield Live SA staff have been highly praised for the professional service they offer and for their willingness to help out parents with every detail of the event and remove all the hassle of organising a killer kiddies' bash while parents relax in the park.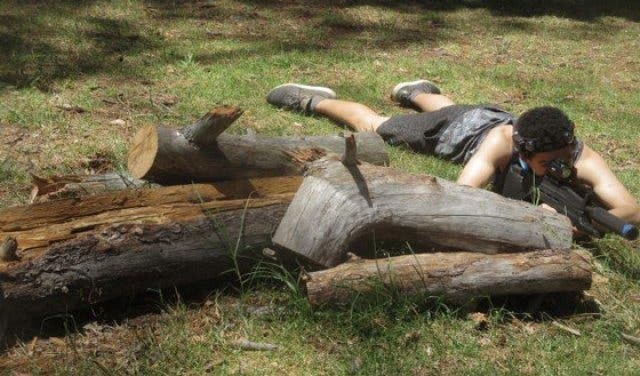 As for the safety aspect, well, grown-ups can take comfort in the fact that the laser technology is harmless and pain-free. There are also two 'mission commanders' watching over the kids all the time. Battlefield Live SA owner Renar Wheeler stresses that the activity, it's not about the guns, it's about fun, engaging in healthy exercise and honing their communication, planning and listening skills and learning about trust, respect and teamwork.
It's a win-win situation. Children have the time of their lives and develop a few important skills while doing so, and moms and pops get to sit back and save a solid R500. It's the sort of one-of-a-kind kids' party that leaves everyone feeling like champion soldiers.
PRICING AND BOOKING INFO FOR THE BATTLEFIELD LIVE SA KIDS' PARTY SPECIAL
As mentioned, a weekend kids' party for 20 people costs R3100 in total or just R2730 for 17 at the all-new venue at Altydgedacht Wine Estate in Durbanville. This price is the minimum charge for a larger group, so if there are fewer than 20 but more than 14 kiddies, you will still be required to pay this amount (groups of 14 or less cost R2590). There are further per person discounts available for groups larger than 20. But bear in mind that the company can only accommodate as many kids as there are small guns. It is advisable to book well in advance to avoid disappointment; fill out the booking request form on the Battlefield Live SA website or contact Renar on +27 (0) 84 364 9979 or at renar@battlefieldlive.co.za.
To benefit from the special, you must book your child's party in one of the following time slots:
Friday: Wynberg Park and Altydgedacht: 3pm–5pm
Saturday and Sunday: Wynberg park: 10am–12pm; 12:30pm–2:30pm; 3pm–5pm | Altydgedacht: 11:30am–13:30am; 2pm–4pm
Note: Children must be seven years of age or older to participate. Battlefield Live SA cannot allow kids younger than this to handle the guns.
---
Keen to learn more about this outdoor laser tag game? Read about our experience playing Battlefield Live SA in Cape Town.
---
Find out about more cool things to do with kids, great places to host kiddies birthday parties, and unique venues for end of year functions.
Use our events section for an up-to-date overview of happenings in Cape Town. Also, don't forget to subscribe to our newsletter and if you have a smartphone, add m.capetownmagazine.com to your home screen for quick access on the go!
Follow us on Twitter, like us on Facebook, join our Google+ circle, connect with us on LinkedIn, check out our photos on Instagram and follow our Pinterest boards for updates on what's happening in and around the Mother City!