Pop into Just Like Papa this Saturday and Feel Like a Kid Again
Gold-class vicar knives, Swedish-made hunter's hatchets and one-of-a-kind handcrafted outdoor gear – recapture that child-like feeling of wonder and amazement with Just Like Papa's selection of unique, must-have gifts for men and women
When was the last time you felt like a kid in a candy store?
As adults, shopping has become either a thing of stress and necessity (rushing to get the groceries done) or one of constant bombardment, excess and consumer culture (a million deals you didn't know you needed on products you never wanted).
But what about that kid? Whatever happened to them? What about that feeling you only get when you walk into a room that's filled, top to bottom, with just the things you love – not need, not "want," but love. That feeling you get when you're in the kind of store that makes you rush from display to display, always finding something new to look at, something even better than the one before. The kind of place that makes you want to keep an eye on all the other "kids" walking through the door, just in case they discover something before you've gotten to it or want to get the jump on buying that special thing you've been eyeing.
What happened to that feeling of wonder and amazement?
Nothing, really. It's still there inside you. Just waiting to be unlocked again at Just Like Papa on Harrington Street.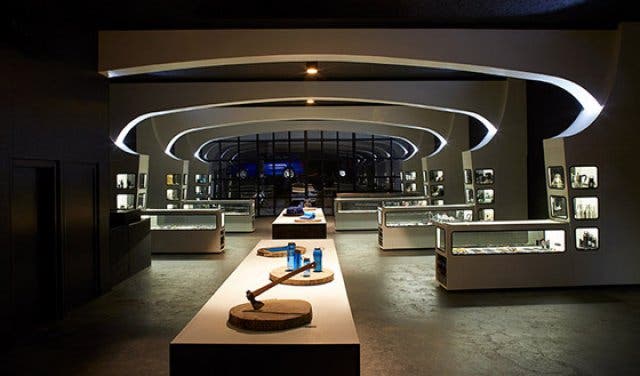 WELCOME TO JUST LIKE PAPA
Walking inside is like setting foot in the belly of a beast. The interior has been made to resemble the rib-cage of a whale – which can be better described as one of the most impressive showrooms to be found in Cape Town. Sporting a flowing, elongated shape, Just Like Papa's showroom is spacious and lends itself to prolonged browsing. Shelves and display cabinets hold the products that all fall into the theme which the brand has established itself upon – born out of a spirit for adventure. Here you'll find a selection of specialised products arranged in several different categories, namely survival, camping, gifting, home and tactical. But these products are by no means run-of-the-mill items lacking in quality, in fact, Just Like Papa prides itself on this hand-picked selection of quality goods that have been built to last.
The ethos of this store resonates in its offering; strong, durable – and impressive to look at. Just Like Papa is all about taking it back to a time when you didn't buy firewood – you cut it yourself. Take time to admire the craftsmanship of the wide selection of knives and axes on offer, or rather work your way through torches, tents, coffee makers, canteens and pens to name a few. The selection is broad, but one unifying characteristic of them is that they've all been specially picked for their durability and quality.

What we have here is a centralised place for high-quality items that you quite possibly may not find anywhere else. Consider Just Like Papa when next shopping around for a gift, you'd be surprised at some of the bargains that may jump out at you. Price points start at R45 and work their way up to R155 000.
Spend your Saturday morning at Just Like Papa to bring back nostalgia, to once again feel like a kid in a candy store. And, if you fell in love with the space as much as we did, take note that this space is available for venue hire. Plan your next event or party here for a unique setting.
------
Check out our 11 ultimate gifts from Just Like Papa.
Shopping for a last-minute gift? Just Like Papa is open until 7 pm on weekdays.
Looking for a special gift hand-made in Cape Town? Here are some special gift ideas crafted in the Mother City.
------
Use our events section for an up-to-date overview of happenings in Cape Town. Also, don't forget to subscribe to our newsletter and if you have a smartphone, add m.capetownmagazine.com to your home screen for quick access on the go!
Follow us on Twitter, like us on Facebook, join our Google+ circle, connect with us on LinkedIn, check out our photos on Instagram and follow our Pinterest boards for updates on what's happening in and around the Mother City!