Half-Price Rotisserie Chicken (& sides) Wednesdays At Strolla
Warm at the fireplace inside or sip Corona on the Sunset Deck in shorts and slops (while the kids are occupied making their own pizza) on Sea Point's hidden sea view spot
Want every Wednesday to feel like a fun Friday? Then stroll along Sea Point's Platinum Mile until you reach Strolla Restaurant & Bar (next to the Peninsula hotel and MyCiti bus station at the roundabout.
With its comfortable, chic and cosy glamour inside (including fireplace) and Corona Sunset Deck outside, it's truly a well-hidden gem. Fe people know the sea views - and almost always space on the deck.
You can enjoy their delicious rotisserie chicken feast for half price the whole of Wednesday.
GOLDEN BUTTER GOODNESS
And when we say feast, we mean feast – South African style. We're talking a delicious half chicken (and not a small one either), beautifully prepared with a flavour-filled basting, served with mielies drenched in golden buttery goodness, cheeky chunky potato wedges, peri-peri (on the side) and a surprisingly tasty lemon-butter sauce.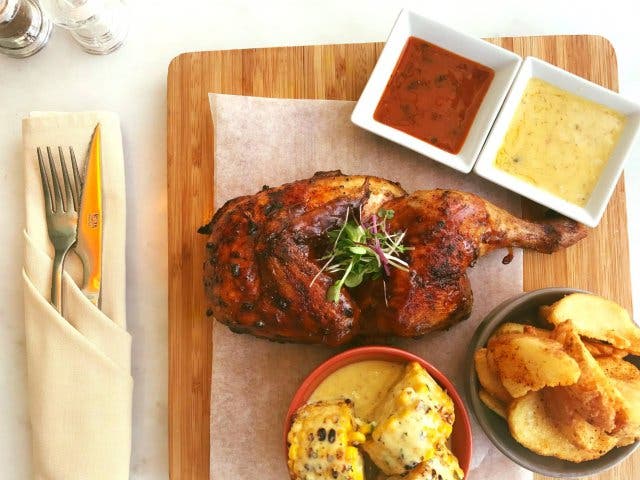 MORE THAN KIDS FRIENDLY - SO FIT FOR THE FAMILY
Bring on the kids. Strolla has a dedicated kiddies corner that will have them creating their own pizzas as well as a special games room with simoke drawing options to game consoles.

A nice plus: Come casual, things are cool and easy-going at Strolla Restaurant & Bar.
Price: We do mean half price. This meal normally costs R150, but on Wednesdays, you pay only R75, making it an extremely tempting eating out offer. Ask for Stell Artois Happy Hours as well.
----
We know where to get authentic Portuguese barbecue chicken with Mozambican chilli sauce. Get hot with Piri Piri Chicken in Cape Town. Have kids need food? Here's our list of top kid-friendly restaurants in the Mother City.
Birthdays should be a time to celebrate. We think our top birthday party venues are worth toasting and so are these fabulous restaurants with sea views.