Drugs, Psychotic Laws and ... Aardvark Holes? Find Out WTF at this One-man Show
A comedy show by a medical doctor reveals some hard truth behind human dependency on drugs, and the lawmaker's obsession with stopping it
Drugs are the scourge of our communities, and lawmakers are doing their best to stop it. But are they really?

The war on drugs is about to gain a whole new perspective, thanks to a one-man comedy show put together by medical doctor Keith Scott.

The show is running at Artscape, and later at the Galloway Theatre between 2 and 20 April 2019.

TELLING HARD TRUTH ABOUT THE WAR ON DRUGS
The show is a one-person satirical comedy that dissects, as Scott puts it, "our relationship with the psychoactive drugs we take and the psychotic drug laws others make to prevent this".

He delves into the origin of humans' relationships with drugs, how they boosted human brain development, their relationship to religion and the role of the colonial powers as the first drug cartels.

He also relates his own curious experiences with drugs as an infant, as a child and as a doctor, while taking the audience on a journey "down the aardvark hole".



WHAT IN THE BLUE HELL IS THE AARDVARK HOLE?
In his show, Dr Scott uses the term "down the aardvark hole" as an Africanised play on "down the rabbit hole". This is a reference to Alice's Adventures In Wonderland, meaning "to go into a strange or complex situation."

Because Dr Scott believes the War on Drugs is so irrational, problematic and chaotic, it equates to being "down the rabbit hole". Through his show he wants to intimate that being "down the aardvark hole" is far more preferable.
You'll have to see the show to find out why that is though.

WHO IS DR KEITH SCOTT?
Keith Scott is a medical doctor, comedian and drug law reform activist who has practised in South Africa, the UK, New Zealand and Botswana. He's also seen the rest of the world through a porthole while working as a cruise ship doctor.
His current interests are medical-themed comedy and drug law reform – with his long-standing interest in the latter seeing him co-found the South African Drug Policy Initiative in 2018.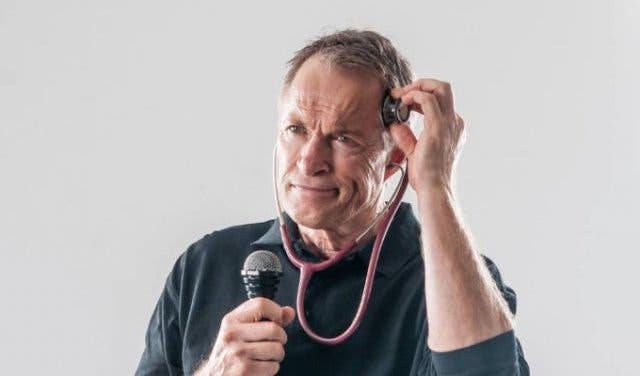 DATES, TIMES AND TICKETS
The show runs at the Artscape Theatre from 2–5 April and at Galloway Theatre from 17–20 April. Each night kicks off at 8pm, tickets cost R120 and for the Artscape Shows can be booked here.

Tickets for the Galloway Theatre Show can be booked here.

---

There are more stage shows out there, just check out these theatres in Cape Town.

If you're more about the laughs and less about the drama check out these comedy venues.

If live music is your thing make your way to an awesome live music venue.

---
Supercharge your event? Our Events Support Programme gets results. Contact support@capetownmagazine.com or +27 (0)21 422 2444.

Use our events section for an up-to-date overview of what's happening in the city, suburbs and dorpies. Join our newsletter and add us to your mobile home screen for the ultimate guide to discoveries in Cape Town.

Follow and like us on Twitter ❤ Facebook ❤ LinkedIn ❤ Instagram ❤ Pinterest for updates.