Coronavirus FAQ: symptoms, lockdown info, and updates
Find out all you need to know about the novel coronavirus
South Africa is currently under lockdown to curb the spread of the coronavirus. Many of you had questions, and there is a great deal of uncertainty. We've collected answers from credible and reliable sources to bring you accurate information about what's happening and how it affects your life. Find out what the nationwide lockdown means for you, read about the symptoms, and find out how to self-isolate, whether to get tested, and what the government is doing to contain the coronavirus.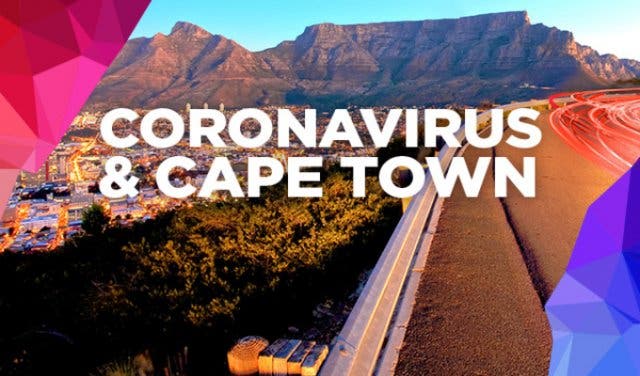 WHAT IS COVID-19 AND WHERE DID IT COME FROM
COVID-19 belongs to the family of coronaviruses found in humans and animals. Other coronavirus cases are the Middle East Respiratory Syndrome (MERS-CoV), which first broke in 2012, and Severe Acute Respiratory Syndrome (SARS-CoV), which was identified back in 2003. The COVID-19 was first reported in Wuhan, China. The first case of coronavirus COVID-19 in Cape Town was confirmed on 11 March 2020, five days after the virus first appeared in KwaZulu-Natal South Africa. The World Health Organisation declared the virus a pandemic on 11 March 2020, with over 100,000 confirmed cases of infection across 120 countries.
HOW IS THE VIRUS TRANSMITTED?
The World Health Organisation states that "the disease can spread from person to person through small droplets from the nose or mouth which are spread when a person with COVID-19 coughs or exhales". These droplets may land on a surface, or another person who can then "catch COVID-19 by touching these objects or surfaces, then touching their eyes, nose or mouth. People can also catch COVID-19 if they breathe in droplets from a person with COVID-19 who coughs out or exhales droplets".
This is why it is important to keep at least a one meter distance away from other people during this time, especially if they are sick.
WHAT ARE THE SYMPTOMS OF COVID-19?
According to the World Health Organisation (WHO) the most common symptoms of COVID-19 are fever, tiredness, and a dry cough. Some patients may also experience aches and pains, nasal congestion, runny nose, sore throat and diarrhea. These symptoms are usually mild and begin gradually.
HOW LONG AFTER CONTACT WITH AN INFECTED PERSON DO SYMPTOMS SHOW?
The Center for Disease Control and Prevention have stated that "symptoms may appear 2-14 days after exposure".
WHAT SHOULD I DO IF I SUSPECT I HAVE COVID- I9?
According to the Western Cape Department of Health, you may be suspected for coronavirus if you have had flu-like symptoms in the past two weeks have travelled internationally to a high-risk area, been in close contact with someone who has been tested positive for the coronavirus, or live with a person who has tested positive for the coronavirus. If you have a fever, dry cough, and fatigue, call the NICD helpline on 0800 029 999. They will help you determine what you need to do.
HOW DO I GO ABOUT GETTING TESTED?
The Western Cape Government Department of Health states that it is important to seek care that limits your contact with people around you. They suggest you call the NICD Hotline on 0800 029 999 or the Provincial Hotline on 021 928 4102. Explain your symptoms, state if and where you have travelled, and indicate whether you have had contact with someone who tested positive. You will receive advice on what to do.
The South African Government News Agency has stated that, "public sector testing is free of charge". However, "If going via a private lab, it is advisable to check with your medical aid to ascertain if they will cover the costs for the test".
WHAT IS SELF-ISOLATION AND WHO NEEDS TO DO IT?
According to the National Health Insurance it's important to understand the difference between self-quarantine, self-isolation and social-distancing and how you fit into it.
For those who think they have the virus or have tested positive for Covid-19 you need to self-isolate. Here you can be in a house with multiple people but you must wear a mask, keep a 1.5 meter distance from another person and try to stay in a separate room.
If you have been exposed to the virus but are not showing any symptoms then you should self-quarantine. During quarantine you should take your temperature daily, be aware of developing any symptoms and staying away from public space for 14 days.
Social distancing is for those who haven't been exposed to the virus but who still want to help mitigate the spread of Covid-19. In this case, you should maintain a safe 1 meter social-distance from yourself and from those who are coughing or sneezing.
HOW CAN YOU PROPERLY SELF-ISOLATE AT HOME?
Professor Cheryl Cohen from the National Institute of Communicable Diseases explains everything you need to know on how to properly self-isolate at home.
SHOULD YOU BE WEARING A MASK?
It is unnecessary for those who are healthy to wear protective masks. The World Health Organisation suggests that if you are healthy, and are not taking care of a person who has the coronavirus, you don't need it.
HOW CAN I PROPERLY TAKE CARE OF A HOUSE MEMBER WITH SUSPECTED OR CONFIRMED COVID-19?
The World Health Organization recommends for caregivers to efficiently and safely protect household members with suspected or confirmed COVID-19 to daily clean frequently touched surfaces with disinfectant. Caregivers need to be aware of everyone's health and should monitor for COVID-19 symptoms such as a cough, a fever or difficulty breathing.
CAN YOU GET THE CORONAVIRUS MORE THAN ONCE?
This is a complicated question that still needs to be fully investigated. Science writer Cathleen O'Grady wrote a National Geographic article about herd immunity and the coronavirus published on 20 March, 2020, in which she observes that "some reports describe reinfections of the novel coronavirus in people who tested positive again after they had already recovered. It's not clear, though, that these are actually cases of reinfection—it's more likely that they can be explained by people continuing to shed the virus for a long time, and that the level of virus shedding fluctuates over time." Read the full article on the National Geographic website.
HOW IS THE GOVERNMENT CONTAINING THE SPREAD OF COVID-19?
On 23 March President Cyril Ramaphosa declared a nationwide lockdown in order to mitigate any further spread of the Covid-19 virus starting from Thursday 26 March at midnight to 16 April midnight. This nationwide lockdown is an emergency protocol which requires all South Africans to stay at home for a given period of time.
WHAT WILL YOU STILL BE ABLE TO DO?
Although you are under lockdown, you'll still be able to get food, seek medical care, go to a pharmacy, access your banking services and collect your social grants.
WHAT HAPPENS IF YOU BREAK THE RULES?
Failure to follow the rules could lead to a month imprisonment or a fine.
WHICH BUSINESS WILL STAY OPEN AND WHAT ABOUT EMERGENCIES?
Pharmacies, banks, supermarkets, petrol stations and emergency services such as doctors, clinics, and hospitals will continue to operate as usual.
HOW DO I KNOW IF MY BUSINESS IS AN ESSENTIAL SERVICE?
At the inter-ministerial update of Covid-19 on 25 March the Minister of Trade and Industry, Mr Ebrahim Patel, announced that "all businesses that will be allowed to provide essential services are required to seek approval from the Department of Trade, Industry and Competition (the DTIC) in order for them to trade during the period of the lockdown".
If your business falls under the above categories of essential goods and businesses, then you are able to apply at the Companies and Intellectual Property Commission (CIPC) BizPortal. Here you will obtain a certificate from the commissions to continue trading. Under the 'services' icon on the top right corner of the page you will find the Covid-19 Essential Services application form. Here you will need to provide minimal registration details such as trade name, type of trade, contact details, number of employees and whether your business meets the requirements.
WILL PUBLIC TRANSPORT STILL OPERATE?
Public transport is operating under certain restrictions. Read all about how the lockdown and coronavirus outbreak is affecting public transport in South Africa.
WILL TRAVELLERS BE ABLE TO FLY HOME DURING THE LOCKDOWN?
Travellers will not be able to fly home during the lockdown period. Read all about how the lockdown and coronavirus outbreak is affecting travel in South Africa.
WHAT IF I HAVE A FUNERAL OR A WEDDING?
Weddings during lockdown are prohibited, however cemeteries will remain open. There will be a maximum limit of 50 people per gravestone and residents must strictly adhere to booking times which are 30 minutes for each burial as well as maintain a 1.5 meter distance at all times.
---
Share in a moment of joy, and watch South Africans arrive home in song.
7 simple, fun and not too messy recipes to make with your kids in lockdown.
Find out more about how the coronavirus is affecting travel and transport in Cape Town.
To contain the spread of Covid-19 the city has closed public facilities and beaches.
Don't miss out on all the moments of joy getting us through the coronavirus.
Try-out our list of things to do this weekend to help flatten the curve.
Keep up to date with Covid-19 updates and practical tips.
---
Use our events section for an up-to-date overview of what's happening in the city, 'burbs and dorpies. Join our newsletter and get quick access on the go by adding us to your mobile home screen for the ultimate guide to discoveries in Cape Town.

Follow and like us on Twitter ❤ Facebook ❤ LinkedIn ❤ Instagram ❤ Pinterest for updates.