No Fireworks Doesn't Mean No Fun For Guy Fawkes Day
There are lots of ways South Africans celebrate Guy Fawkes Day
It's almost time for that one night of the year when things go bang, kids go begging and everyone seems to get up to some kind of mischief. Yes, Guy Fawkes is almost upon us and whether you celebrate it in the Traditional British Bonfire style or give it a more local and lekker flavour, one thing is for certain - there will be no designated areas for fireworks, as declared by The City of Cape Town. But, if you really want to host a fireworks display on 5 November, you can still apply to the City and hope for a bright and beautiful result.



KIDS PLAY DRESS UP AND TEENS PULL PRANKS
Guy Fawkes is one of those weird British holiday imports, which every local community seems to celebrate in their own strange and mischievous way. In some communities, children dress up as beggars and go from house to house singing special songs and begging for money. In others, pranks are the order of the day as groups of kids and teenagers take to the streets to throw eggs and paint on people and unsuspecting cars.

NO DESIGNATED AREAS FOR FIREWORKS
Usually the fireworks is the one element that brings every community together. But not this year. This year the City has declared that there will be no designated areas for fireworks, which is good news for the elderly and animals who usually spend the night living in fear of "the big bang". So what does this mean for the rest of us? Maybe it's time to start new and exciting traditions? To do this, we should first explore what the actual holiday is based on.

REMEMBER THE 5TH OF NOVEMBER
Does anyone actually know what happened on the 5th of November or who this Guy Fawkes character was? Historically speaking, Guy Fawkes is a story about rebellion. Back in the day when gunpowder was considered a "weapon of mass destruction" an organisation known as the Gunpowder Plot placed explosives under the House of Lords in an effort to kill King James 1. Guy Fawkes, who was just the guy protecting the explosives, was arrested and the whole plot failed, or you could say "imploded".



So Guy Fawkes is really a cautionary tale about how rebellion fails in the end. But that doesn't stop people running around, setting off firecrackers and fireworks in an attempt to express their playful rebellious side.



SOUTH AFRICA'S REBELLIOUS STREAK
Funny enough there is also a rebellious South African connection. Guy Fawkes just happens to mark the day during the Second Boer War when an effigy of Paul Kruger, then President of the South African Republic, was burned in public for the first time. So fire and rebellion seem to be a common theme for this holiday. This year, you might have to light a few sparklers to get the party started or maybe just have a good old fashioned braai in the backyard and invite your community to tell their most rebellious and mischievous stories. It's an idea. Maybe it will spark more ideas. And more.



YOU COULD CELEBRATE THE BRITISH WAY
Another option for Guy Fawkes is to celebrate it like a proper Brit and host a traditional bonfire with traditional bonfire food. In the old days, towns and villages across England would light massive bonfires, set off fireworks and burn effigies of Guy Fawkes in celebration of King James I's survival. It's less common these days, for similar reasons to ours – open fires and fireworks are dangerous, for people and pets alike.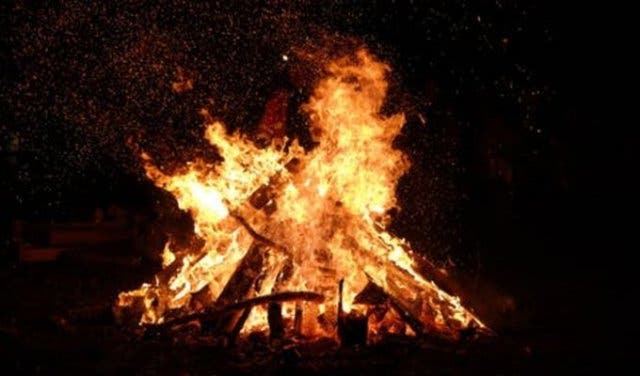 The moral of the story is simple: how you choose to celebrate Guy Fawkes is up to you. Just as long as you keep your fires in the pits and the bright sparks under the grids where they belong. The rest is in your rebellious hands. Have fun!

---

October is the month of ghosts and ghouls, so check out this selection of spooky things to do for Halloween.

You can get your ultimate fun on with these picks of things to do over the weekend.

Find out where you can watch fireworks over New Year's Eve.

---

Supercharge your event? Our Events Support Programme gets results. Contact support@capetownmagazine.com or +27 (0)21 565 0415.

Use our events section for an up-to-date overview of what's happening in the city, suburbs and dorpies. Join our newsletter and add us to your mobile home screen for the ultimate guide to discoveries in Cape Town.

Follow and like us on Twitter ❤ Facebook ❤ LinkedIn ❤ Instagram ❤ Pinterest for updates.