Bring The Kids: Cape Town's New Battery Park Is A Great Day Out
7 things to do and discover with the family at Battery Park in the V&A Waterfront's Canal District
Last update: 29 July 2019
Skate, SUP, scoot and picnic – you can do a lot against the awesome backdrop of Table Mountain in the Battery Park development space. "There's no use creating a blank space and leaving it there. It's all about activating it by making activities available for people to enjoy there," says David Green, V&A Waterfront CEO.
Bring the kids and come check it out this weekend – there's a lot to do, even in winter. And the park is wheelchair accessible too.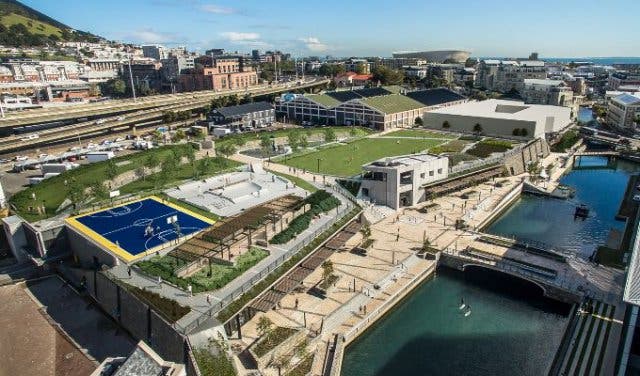 A SHORT HISTORY
A battery is typically a fortified place for heavy guns. The Dutch constructed Cape Town's Amsterdam Battery in 1784 to defend Table Bay Harbour from attack. In 1898, it was disbanded, and later, partially demolished to make way for the harbour. There are 'battery parks' around the world that consist of restored and improved spaces that once served as a battery, and now Cape Town joins the list.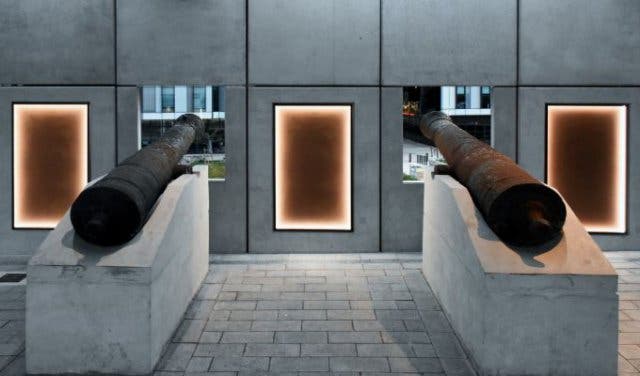 THINGS TO DO AT THE WATERFRONT BATTERY PARK
Battery Park is Cape Town's newest urban park that connects the Waterfront to the city through a series of scenic pedestrian routes, recreation and retail activities. It's a green space that forms part of the Canal District of the V&A Waterfront. It's open to the public – there's no entry fee to access the area – and here's what you can expect.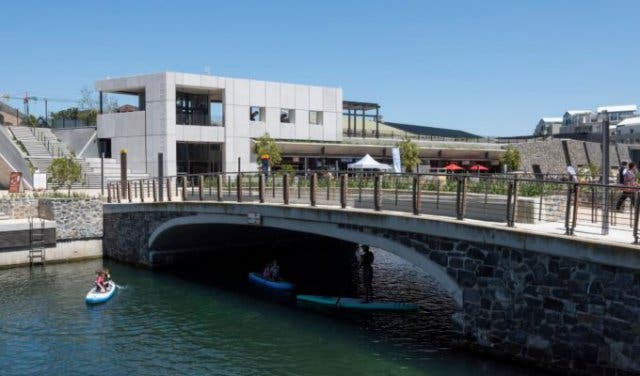 STAND-UP PADDLING AND OTHER WATERSPORTS IN THE CANALS
Grab your friends and spend the day stand-up paddling along the canal. A range of watersport activities are available, ranging from SUP to kayaking and swimming. In addition, you could also catch a water taxi between the Cape Town International Convention Centre and the V&A Waterfront.
SKATE PARK
In a bid to make Battery Park accessible and interesting for all ages, there's a free public skate park. With its picturesque background, it's becoming one of the most Insta-worthy recreational spots in Cape Town.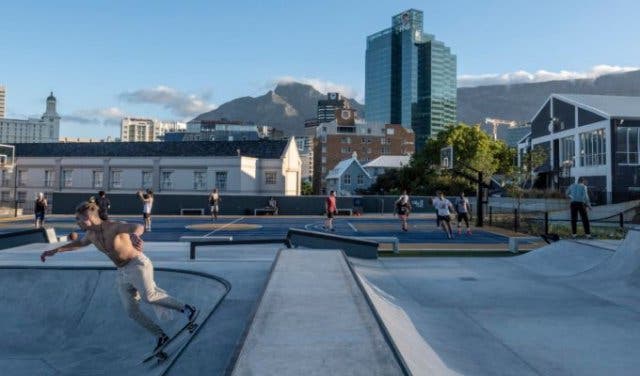 BOOST YOUR FITNESS ON THE PATHS OR THE BASKETBALL COURT-CUM-SOCCER FIELD
Grab a coffee nearby and start your scenic run or walk along the pedestrian paths. Or, hop on a bike and explore the area from a different perspective. The basketball court invites you to enjoy an after-work game, and can double up as a soccer field, too. You can experience open-air sunset and sunrise free yoga.

FAMILY-FRIENDLY
The family-friendly area consists of a play park with a jungle gym, swings, rocking horses and a scooter path. If you fancy an outdoor movie under the stars, Battery Park is one of the new venues for the Galileo Open Air Cinema.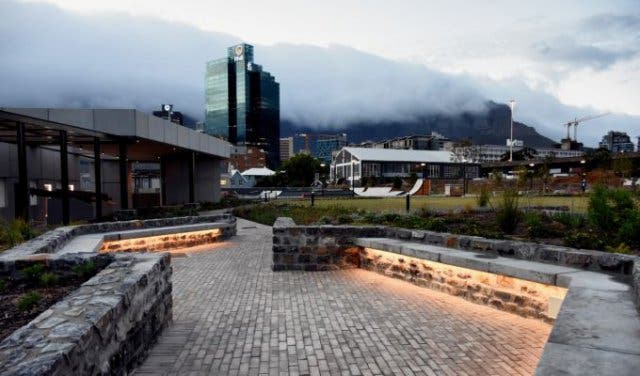 PICNIC WITH A VIEW
With plenty of fynbos gardens and benches, the park is the perfect place for a picnic. You can enjoy exquisite views across the V&A Waterfront and the surrounding city streets. Or watch water activities and gaze at Signal Hill as you wander along the water's edge.
HOP INTO HERITAGE
The ruins of the historic Amsterdam Battery have been retained in Battery Park as a new heritage site. You can learn more from the heritage storyboards.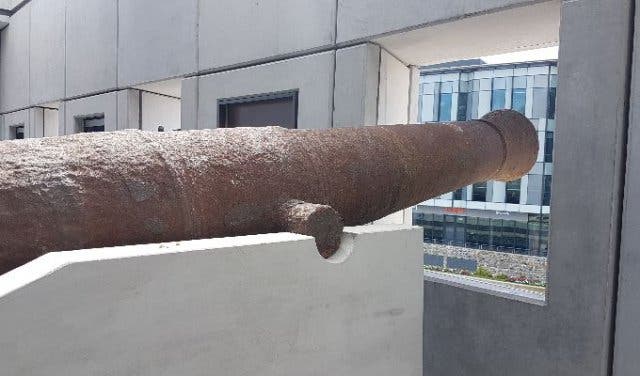 REFRESHMENTS AND RETAIL
Stop by for something to eat and drink from a selection of eateries tempting you with the likes of freshly brewed coffee and chocolate croissants. Browse (or just window shop) a range of niche companies, showrooms and specialist stores.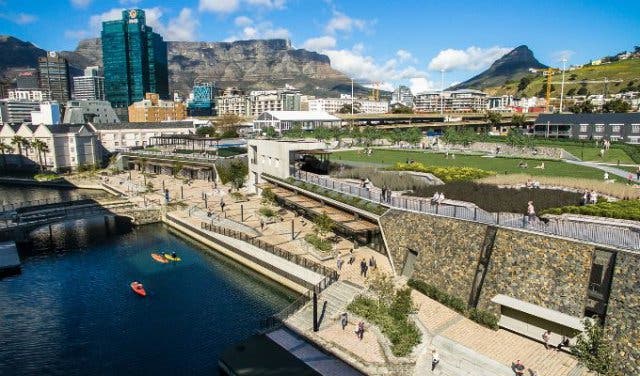 A special thanks to @dhk Architects for sharing this awesome news and new images of this exciting new city neighbourhood with us.
---
PLUS: 52 NEW PLACES FOR YOU TO DISCOVER
From the three-storey restaurant built on braaied chicken to the Muizenbergers invading Kloof Street. Curious? Unlock fresh experiences among our special selection of new restaurants in Cape Town.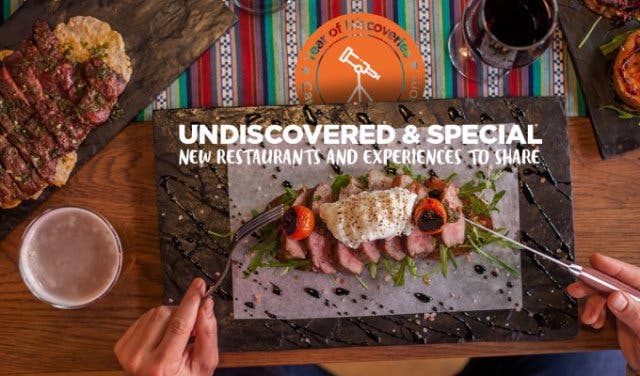 ---
Experience this Cape Town-born internationally recognised brand in their new store – Sealand Gear.

Every Friday, watch the free sunset series at Battery Park.

Find out more about Battery Skatepark. Hout Bay is getting an exciting new development called Eyethu Skatepark.
Hungry? Grab a bite to eat at the V&A Food Market. Looking for something exciting to do in the area? Check out Hint Hunt.
There are plenty of things to do in the V&A Waterfront, including be entertained by the funniest comedians at Cape Town Comedy Club.
---
ABOUT #CapeTownMagNew:
#CapeTownMagNew discovers exciting new places in and around Cape Town and the Western Cape. CapeTownMagazine.com celebrates entrepreneurship by telling the unique story of your business. Follow #CapeTownMagNew on Twitter and Facebook to stay up to date on new places and experiences or read more here about new places in Cape Town.
---
Use our events section for an up-to-date overview of what's happening in the city, 'burbs and dorpies. Join our newsletter and get quick access on the go by adding us to your mobile home screen for the ultimate guide to discoveries in Cape Town.
Follow and like us on Twitter ❤ Facebook ❤ LinkedIn ❤ Instagram ❤ Pinterest for updates.