8 Unique Cape Town Co-Working Spaces and Hot Desk Spots
Claim your spot at these cool co-working spaces around Cape Town, each offering something different to maximise productivity
Updated: 13 October 2019
CapeTownMagazine.com recently moved into new offices at a co-working space, because we always love being in the centre of creativity and ambition – the kind that gets the best out of you. Co-working spaces are the future of office work in Cape Town, so we've put together a list of the city's coolest shared working spots.
1. THREE COVETABLE INNER-CITY BUSINESS ADDRESSES
Entrepreneurs love Inner City By Ideas Cartel which offers office space in Loop Street, Waterkant Street and the Foundry. The coworking spaces are favoured by full-time freelancers and teams. The stately boardrooms are set up for efficiency. Each with a 55-inch screen they are constantly booked for presentations. Membership to Inner City by Ideas Cartel offers a covetable connected business address, with cleaning, a reception desk, network support, boardroom facilities, and more, depending on what arrangement you choose. Read more about Ideas Cartel and get access to all on the Cartel App.
Cost: From R350 / day and from R5000 / month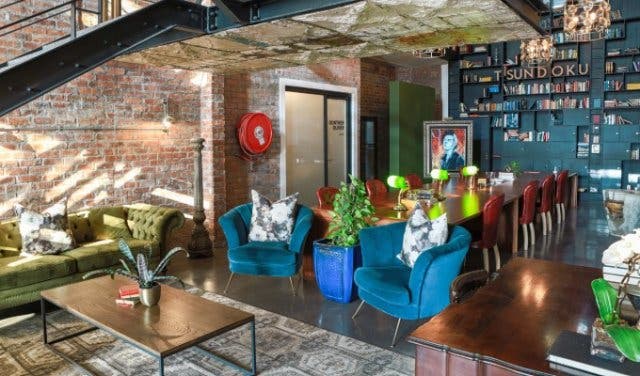 3 locations, +27(0)21 824 1781, info@ideascartel.com, website
2 EASY ACCESS TO HIGHWAYS AND PUBLIC TRANSPORT IN THE SOUTHERN SUBURBS
If the Southern Suburbs is closer to where you call home, this shared Claremont workspace is one to note. Offering easy access to both the M3 and M5 as well as public transport, an office at Venture Workspace includes the use of the communal kitchen, fibre internet, 24-hour security and the other extra admin that would normally slip your mind, like mail service and reception. Find it at Venture Workspace.
Cost: Offers range according to your needs in three different options. Rent an office for the day or enjoy unlimited monthly access as a workspace member from R150 a per day and from R1800 for monthly access. Private, fully serviced office rates are provided on request.
3 FROM VIRTUAL OFFICES TO PET-FRIENDLY WORKING SPACES IN WOODSTOCK
Let the inspiration flow in one of the most creative and artsy suburbs in Cape Town. This Woodstock working hub offers 'flexible work habitats' for entrepreneurs and professionals and offers all the goods, from uncapped internet to virtual offices (providing address services but without the physical space). But The Bureaux does more than that, like offering digital marketing as part of the package. Some offices are pet-friendly too!
Cost: Enjoy a personal desk space on a monthly rental contract from R1850 a month, and private, secure office suites from R5500 a month.
4 'QUIET ROOMS' AND ON-SITE IT IN RONDEBOSCH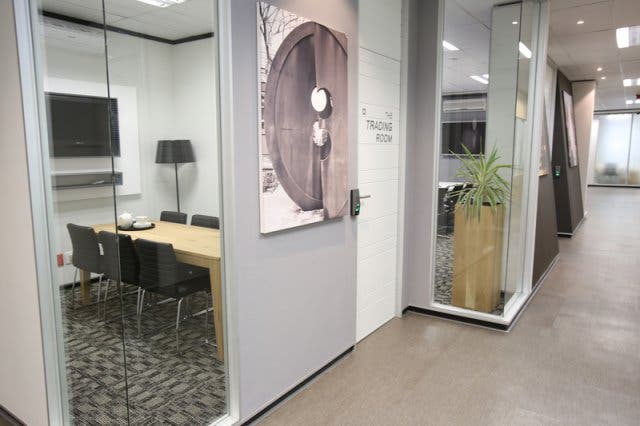 Offering communal workspaces as well as private offices with built-in WiFi, storage facilities, and free tea and coffee, members of this cool co-working spot can also enjoy the perks of easy-breezy on-site IT support, and a 'quiet room' – a silent space to take a breather when Monday isn't going as smoothly as you'd planned. Find it at Cube Working Space.
Cost: Enjoy a communal workspace from R2100 a month. Private offices range in size and price and start at R6000 a month.
5 UNDERCOVER PARKING AND FREE COFFEE IN PINELANDS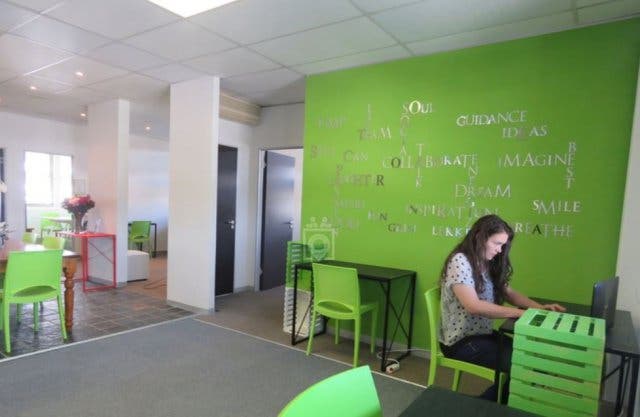 This sharing work hub in Pinelands offers something most shared working spaces lack – secure undercover parking. Members pay an extra R275 a month for parking and will be able to enjoy unlimited broadband WiFi, a lounge and chill area, free coffee and tea, meeting rooms and flexible rental options as part of the package. Find them in the Howard Centre at The Cowork Space.
Cost: Options vary from daily desk rental to a full permanent desk, from R160 a day and from R2100 a month.
6 THIS CENTURY CITY WORKSPACE GIVES YOU ACCESS TO A GLOBAL HOT DESK NETWORK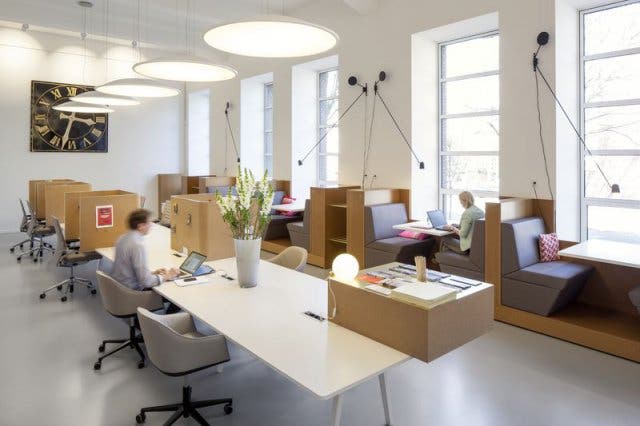 Spaces is a co-working setup in Century City that caters for the world traveller. Members have access to 'global clubs' so you can work from anywhere in the world and get invited to exclusive member-only networking events. Barista coffee, an in-house app, reception and mail services all come along your membership. Rental contracts can be tailored to your specific requirements too at this workspace.
Cost: Meeting rooms, dedicated desks, and private offices range from R273 a month, R1890 a month and R5190 a month.
7 DESKS FOR CHARITY: SOMETHING DIFFERENT IN KHAYELITSHA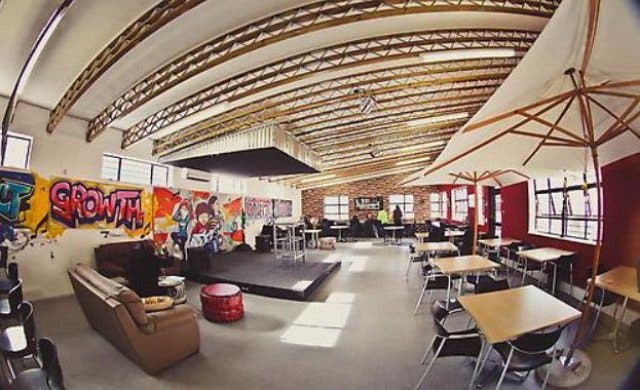 Hubspace in Khayelitsha does things a little differently. First and foremost, they invite you to sponsor a Khayelitsha entrepreneur with a working space in their building. Your sponsorship provides an entrepreneur with a business plan and unlimited access to Hubspace – which gives them high-speed WiFi, as well as the use of the meeting rooms, reception services, chill-out areas, a fully equipped kitchen, secure parking, as well as additional event space in the courtyard and on the rooftop. The initiative hopes to assist entrepreneurs in escaping the cycle of poverty by empowering them to make a difference and, by doing so, make a difference in their community too.
On the other hand, if you're an entrepreneur in need of some assistance, contact Hubspace to find out how to apply for someone sponsoring your workspace.
Cost: R2500 to sponsor an entrepreneur.

8 CREATIVE NEW HIGH-TECH FORESHORE SPACE
R14 Americanos, write-on wall, in-house beauty bar and an awesome rooftop bar and functions space with views for days. Not to mention pre-work sunrise yoga sessions on the rooftop. You're going to want to check out the awesome high-tech space, flexible lease agreements, rad local graffiti on the walls and more at Shared Office Spaces.

Pier Place, 31 Heerengracht Street, Foreshore | +27 (0)82 574 6747 | ashleigh@sharedofficespace.co.za
---
Find your sweet spot mentally and emotionally to excel in 20Plenty at the Strategise Your Life Seminar.
Plush hotels suites at the epicentre of Cape Town at Cartel House Hotel. and discover the premium work-and-play hub for bleisure travellers who want it all at Ideas Cartel.
Learn from the best at the networking event Let's Talk Social Media and Cultural Mega Trends with Dave Duarte at Startup Grind.
Celebrate the entrepreneurs in our city at Cape Town Start-up Week.
Need a break from the office? Get work done at these 10 top WiFi hotspots in Cape Town or get your java fix at these coffee shops in Cape Town. Also, check out office space in Bree Street at Work & Co as well as a new space at Workshop17 Kloof Street.
Find the perfect venue for your next event with function venues around the city. Are you an international looking to work in South Africa? See how to apply for permanent residence.
---

Use our events section for an up-to-date overview of what's happening in the city, 'burbs and dorpies. Join our newsletter and get quick access on the go by adding us to your mobile home screen for the ultimate guide to discoveries in Cape Town.
Follow and like us on Twitter ❤ Facebook ❤ LinkedIn ❤ Instagram ❤ Pinterest for updates.