Bars, Pubs and Restaurants Screening Nothing But The Rugby World Cup
And several others that will put it on if you ask
These seven venues are as crazy about the rugby as you are. The Toad's co-owner is former Springbok player Bob Skinstad. At the Oblivion Wine Bar and Restaurant you can watch the game everywhere: the rooftop garden, on the projector screens downstairs, or big screen TVs in the intimate upstairs section, and at Springbok Blues a Springbok game can be enjoyed with a Springboks Platter.

HALF-A-KILO RIBS FOR R80 AND SPECIALS
The Victorian Times Pub is your rugby home away from home. Come in early and play a game of pool, chill with a beer and bring your partner for dinner while you watch the Rugby World Cup over their shoulder. And with an assortment of specials, who wouldn't feel right at home? Your Friday should start with happy hour at 5pm, then move to 500g of ribs for R80, while watching the game streamed on several screens.
Other Sports: Yes, but rugby takes priority.
Sound On/Off: On


148 Main Road | Fish Hoek | +27 (0)21 782 7597 | Mon: 11:00-02:00 | Tue-Sun: 09:00-02:00

A BAR BASKET WITH YOUR BEERS
Catch the game at the Milnerton steakhouse's bar. Besides its signature dish, the Special Reserve 21 (a side-seared fillet tenderloin matured for 21 days), Dale's Black Angus has a lunch menu that pairs well with a nice, cold beer. It's available from midday until 5pm, Monday to Saturday, and features meals such as nachos, prego steak roll and chips. Or snack on the bar basket and choose items such as riblets, chilli poppers and calamari at Dale's Black Angus.
Other Sports: Yes, any other sports on request.
Sound On/Off: On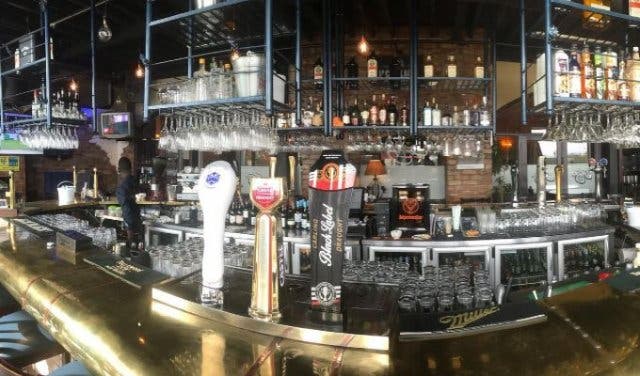 The Paddocks | Racecourse Road | Milnerton | +27 (0)21 551 7776 | office@blackangus.co.za

3 HD SCREENS AND CHOICE OF 30 BEERS
The Elephant & Barrel Village Pub specialises in English beers (there are 30) and features a fantastic cocktail menu. There are two HD screens inside and one outside that will be screening the Rugby World Cup games. You can catch other sports here too, but rugby takes preference so make sure there are no big games before you come in.
Other Sports: Yes, soccer and cricket.
Sound On/Off: On


Centre du Village | 48 Huguenot Road | Franschhoek | +27(0)21 876 4127 | info@elephantandbarrel.co.za | Mon-Sun: 09:00-02:00

FORMER BOK PLAYER'S BAR WITH A BEER GARDEN
Owned by South African rugby star Bob Skinstad and friend Dougie Boyes, The Toad is made for sports fans, by sports fans. The bar features five screens, a beer garden, affordable pub grub, and lager on tap. You can get anything from lamb vindaloo to butter chicken, a variety of pizzas and burgers, plus the special Toad Ribs (made of pork, not actual toad). Plus Springbok A matches come with on-the-day specials.
Other Sports: Yes, on request, rugby takes priority. All world cup matches will be screened.
Sound On/Off: On


Noordhoek Farm Village | Noordhoek | +27 (0)21 789 2973 | Mon-Sun: 12:00-23:00

CRAFT BEER AND SPRINGBOKS ONLY
At Fisherman's Restaurant in Kommetjie you can sit outdoors for a meal of seafood, burgers and pizza, as well as chicken and meat options. The game you catch at the bar, where there is also craft beer on tap. Springbok games take priority, but if you really want to catch another rugby match, you can ask.
Other Sports: No
Sound On/Off: On for Springbok games, others on request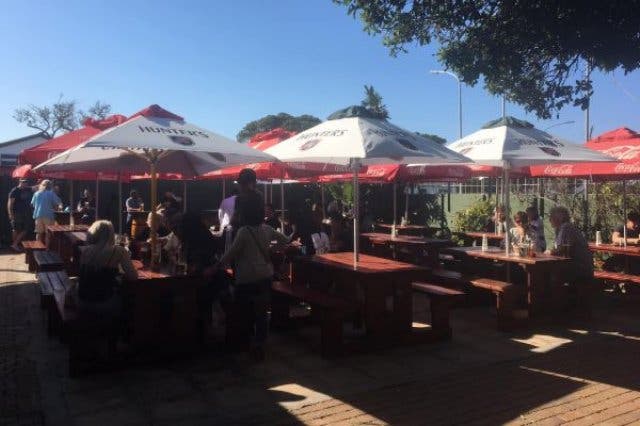 Corner Main Road and Somerset Way | Kommetjie | +27 (0)21 783 1496 | Mon-Sun: 11:00-22:00

GRUB, QUIZ NIGHTS AND TWO PROJECTORS
The 155-year-old haunt and nautical-themed Firemans Arms will be showing all the World Cup matches. It has nine 46" screens and two projectors, so if you don't have rugby fever, one of the other screens can be used for other sports, but rugby sound will take preference. There's a hearty food menu, plus a quiz night on Thursdays.
Other Sports: Yes, soccer, cricket and Formula 1. Fireman's Arms will start showing German Bundesliga and will open every Sunday for Formula.
Sound On/Off: On


25 Mechau Street, corner Mechau and Buitengracht streets | Cape Town | +27 (0)21 419 1513 | Mon-Sat: 11:00-00:00 | Sun: 12:00-17:00

WATCH THE BOKKE WITH A SPRINGBOK PLATTER
Live music, beer and food such as nachos, hake, calamari and steak, that's what you get at Somerset West's premium pub and grill Springbok Blues, besides the rugby. Order signature platters named after the Wallabies, All Blacks and, our favourite, the Springboks Platter of beef frikkadels, beef sosaties, pork belly ribs, crumbed calamari, crumbed chicken and potato wedges. The restaurant has a big projector screen and TVs dotted around the venue.
Other Sports: Yes, but rugby takes priority.
Sound On/Off: On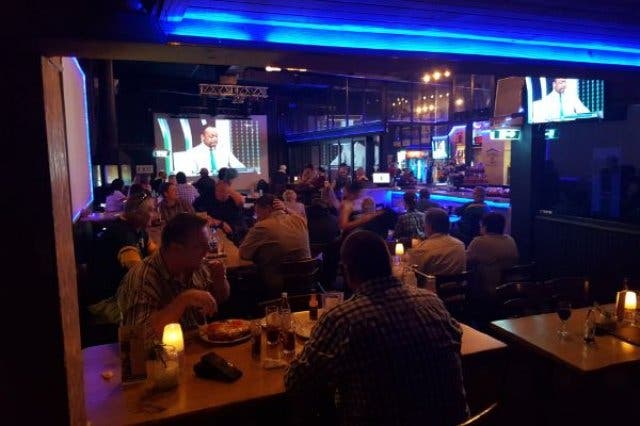 25 Potgieter Street | Gants Plaza | Somerset West | +72 (0)21 854 7787 | Mon: 11:00-20:00 | Tue: 11:00-22:00 | Wed-Thu: 11:00-23:00 | Fri-Sat: 11:00-00:00 | Sun: closed

ROOFTOP GARDEN, PROJECTORS AND BIG SCREENS
For an open-air stadium-like experience watch on the rooftop garden of Oblivion Wine Bar and Restaurant. Bring your friends or partner, but leave the kids at home (over 23s only) and take advantage of the extensive wine and cocktail list. You can also grab a pizza or burger while watching the Bokke in action. Games can also be watched on the projector screens downstairs, big screen TVs in the intimate vintage upstairs section. South Africa's matches are the main priority but if the Boks aren't playing and you want some rugby action, ask the staff to put on other matches.
Other Sports: Yes, when requested.
Sound On/Off: On


22 Chichester Road | Claremont | +27 (0)21 671 8522 | Mon-Thu: 07:30-23:00 | Fri: 07:30-02:00 | Sat: 08:00-02:00 | Sun: 08:00-22:00

RUGBY MENU, BEERS AND PRIZES
Shimmy Beach Club, the luxury lifestyle destination with a fine-dining restaurant, whiskey and vodka tasting rooms, two bars, a massive deck, infinity pool and private beach, will live screen the games on a projector screen. Shimmy will show all the Springbok fixtures live in the Absolut Lounge, as well as all games from the quarterfinals onwards. There's going to be a dedicated World Cup Rugby menu, on sushi and platters and burgers, a beer bucket special, and Heineken hampers are up for grabs. There's also a play area for the kids open 11 am to 7 pm every day, with an au pair to watch over them.
Other Sports: No
Sound On/Off: On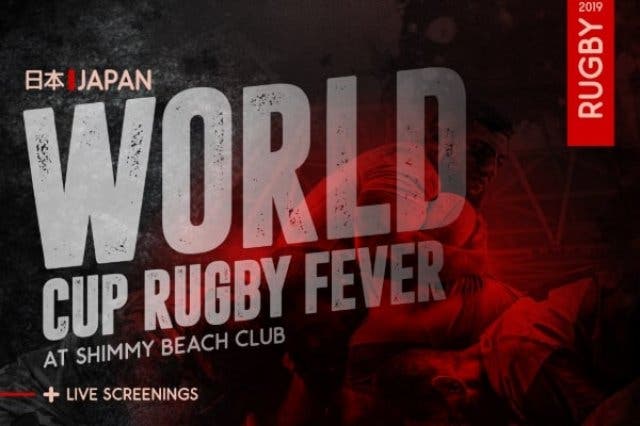 12 S Arm Road | Victoria & Alfred Waterfront | +27 (0)21 200 7778 | Tue-Fri&Sun: 11:00-23:00 | Sat: 11:00-00:00

AND BARS THAT WILL SCREEN RUGBY WORLD CUP IF YOU ASK NICELY

PEDDLARS & CO
TVs, ribs, calamari, peri-peri chicken, vegan noodle salads, sirloin steaks, Moroccan lamb, cocktails and wine.


32 Spaanschemat River Road | Constantia | +27 (0)21 794 7747 | Mon-Sun: 11:00-23:00

MITCHELL'S SCOTTISH ALE HOUSE
The sports bar with flags of different nations produces its own brews: six beers and three ales to be exact.


Corner of East Pier & Dock Road | V&A Waterfront | +27 (0)21 419 5074 | Mon-Sat: 11:00-02:00 | Sun: 11:00-00:00

PIRATES STEAKHOUSE AND PUB
The go-to venue in the Southern Suburbs for sports fans has a giant projector screen and flat-screen TVs.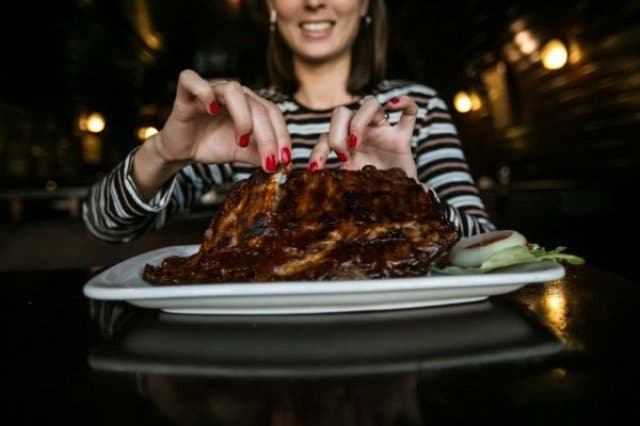 160 Main Road | Plumstead | Cape Town | +27 (0)21 797 5659 | Open 24-hours

BEERHOUSE
Standing out and proud in yellow on Long Street, Beerhouse is well known for its 99 bottled beers and 25 beers on tap. The bar is surrounded with TVs.


223 Long Street | Cape Town | +27 (0)21 424 3370 | Mon-Sun: 11:00-02:00

THE BRASS BELL
Right on the rocks in Kalk Bay this ever-expanding establishment now has nine different restaurant sections, each with a different menu. It also has 10 42" flat screen TVs.

Adjacent to Kalk Bay Harbour | Kalk Bay | +27 (0)21 788 5455/6 | Mon-Fri: 11:00-23:00 | Sat-Sun: 08:30-23:00

PREMIUM SPORTS BAR
It's best known for its coverage of soccer and for being the home of the Cape Town Liverpool FC supporters club. But also happens to be crazy about rugby, and Premium is the best place to go and watch it, on the bar's 250-inch projector screen.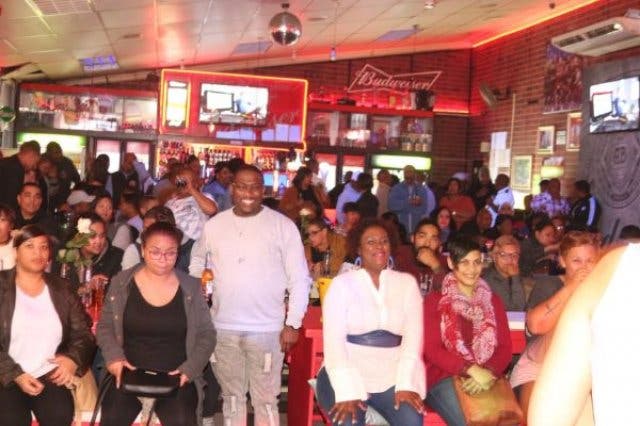 1 Avocado Street | Westridge | Mitchell's Plain | Cape Town | +27 (0)79 821 2398 | Mon-Wed: 11:00-23:00 | Thu-Sat: 11:00-00:00 | Sun: 11:00-22:00

---
City cafe is easy, affordable and open 365 days a year at Cafe Extrablatt in Cape Town and check out the wholesome buffet breakfast and Sunday brunch with the buffet at Cafe Extrablatt.

Here's where to be in Cape Town for the Springboks 2019 World Cup Trophy Tour.

Now that you know where to watch, here are the local times for the 2019 World Cup Rugby Fixtures.
Into a different kind of ball game? Like soccer maybe, then you should know that the PSL games are also on.

If not watching soccer at the stadiums, here are places to watch soccer in your hood.

Rugby fan? Take a look at this interview with Siya Kolisi.
At Gavin Joachim's Bookstore, discover the life journey and spirituality of rugby legend Peter de Villiers.
Superhero fans big and small will love watching their heroes in super new Marvel kit at the Super Hero Super Rugby Sunday.
Got footie fever? Check out these cool, unexpected and exciting places to watch the World Cup Soccer in Cape Town.
Have a squiz at our guide to annual September events to find out about more hot happenings taking place during the month.
---
Want to see your event here? Contact support@capetownmagazine.com | now@capetownmagazine.com to find out about our events packages!

---

Use our events section for an up-to-date overview of what's happening in the city, suburbs and dorpies. Join our newsletter and add us to your mobile home screen for the ultimate guide to discoveries in Cape Town.

Follow and like us on Twitter ❤ Facebook ❤ LinkedIn ❤ Instagram ❤ Pinterest for updates.