13 Hip and Trending Party Places in Cape Town & Surrounds
Your go-to list whether you want to party hard or just chill
If you're looking for somewhere to get your funky dance moves on or just want a chilled Happy Hour at a local watering-hole with friends, check out this list of trending party places in and around Cape Town to find your niche.

YOU GOT THE MOVES LIKE JAGGER?
The Jagger Lounge opened on 29 August 2019, and is the new spot for Cape Town's live music scene. Catch acts like Androgenius, Freshlyground and Congo Cowboys, the best of rock, hip-hop, pop, jazz, blues and also comedy. They have a coffee hatch that serves coffee and pastries. Make sure to check out the tequila bar, too.
Entrance: Varies depending on the performance you'd like to go watch, but prices usually range between R80 and R200


74 Shortmarket Street | Cape Town City Centre | thejaggerlounge.com | Mon-Tue: 7 am-4pm | Wednesday - Thursday: 7 am - midnight | Friday: 7 am - 2 am | Saturday: 8 am - 2.30am

IDRIS ALBA & USAIN BOLT HAVE BEEN HERE
This duo of upscale, Eurocentric clubs is perfect for anyone looking for an exclusive night out, away from the hubbub of regular partygoers. Frequented by international celebrities such as AKA, Usain Bolt and Idris Elba and locals including Bonang and Moozlie, Coco and GoldBar on Loop are places to see and be seen. Coco is a hotspot for Cape Town's sexiest, with a glamorous interior meant to dazzle. Friday nights are all about champagne, extravagance, hip hop and African rhythms. Saturdays are upscale and cosmopolitan, perfect for globe-trotters and celeb-chasers. You can expect to hear more mainstream electronic and dance music. GoldBar is the place for a night of African opulence and extravagance – an extension of popular night club, Coco. The decor is eurocentric-lounge, complete with bookshelves (books included) and leather sofas. If you enjoy nights in high-end groove lounges, GoldBar will meet the standard of any club around the world.
Entrance: R200 for Coco; entrance to GoldBar is complementary to anyone who goes to Coco


70 Loop Street | Cape Town City Centre | info@cococpt.co.za | bookings@cococpt.co.za | +27 (0)72 239 5508 | Coco: Friday & Saturday: 10pm - late | GoldBar: Wednesday - Saturday: 9 pm - late

STEP INTO AN ARABIAN BAZAAR
Souk on Long grabs its theme and decor from its namesake, meaning "Arab bazaar", and it's all about urban entertainment. Wednesdays are slow jams, Fridays are house jams, and Saturdays attract Cape Town's most stylish for an extravagant night out. It features musical acts like Mi Casa, and has seen local celebrities like TV-personality Lasizwe and soccer player Kermit Erasmus. Plus it's perfect for a girls' night: on Saturdays from 3 pm to 6 pm, there's bottomless bubbly for R300 per person.
Entrance: only charged for special events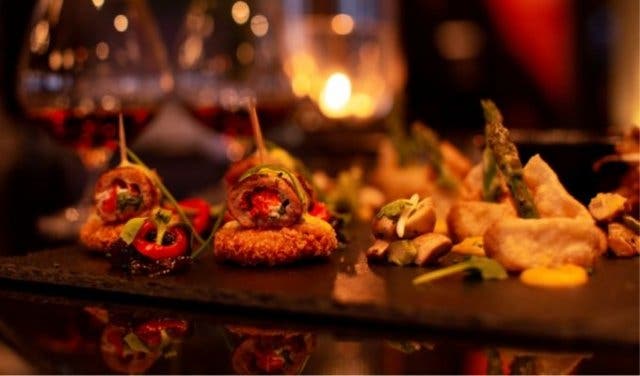 163 Long Street | Cape Town City Centre | +27 (0)21 422 1300 | Wednesday - Sunday: 3 pm - late

IT'S A JOL AT THIS MECCA OF CHISA NYAMA
Rands Cape Town is a place where you can dance, eat and have an all-night jol. You'll find this premium bar and chisa nyama in buzzing Khayelitsha, where in-house and local DJs entertain patrons with hip-hop, house and RnB. Upcoming acts include Kamo Mphela, Loyd, Samthing Soweto and DJ Maphorisa.
Entrance: Free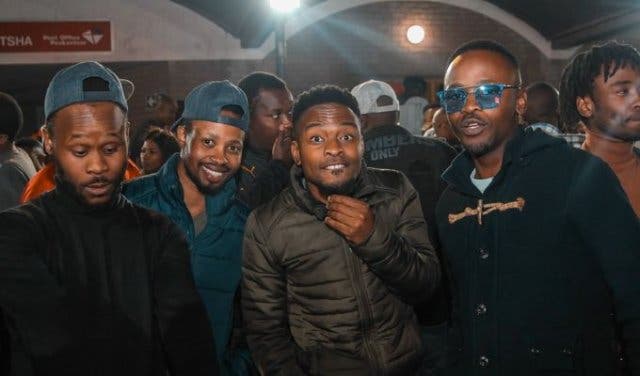 6 Makhabeni Road | Khaya Bazaar | Khayelitsha | +27 (0)21 829 1000 | randscpt@gmail.com | Monday - Wednesday & Sunday: 10am - 10pm | Thursday - Saturday: 10am - 11pm

A STEAMPUNK-INSPIRED BAR IN STELLENBOSCH
When you stand on Andringa Street and look up into the ancient oak trees, you'll find a haven for over 23s in a town filled with lively students. They come for the house, dub and even classic jazz played by the in-house DJs. Cocktails are great, too. They also serve woodfired pizzas, a selection of tapas and craft beer.
Entrance: R30-R100


18A Andringa Street | Stellenbosch Central | +27 (0)21 886 7110 | Monday - Saturday: noon - 1.30am | Sunday: noon - midnight

YOU CAN GET ROWDY AT THIS ROCKING SALOON
Dust and Dynamite brings the wild, wild west to Cape Town with its swing doors, wood panelling and an old piano in the corner. The vibe is casual, with just a hint of old-school charm against old rock tunes while you sip your whiskey, neat.
Entrance: Free


27 Caledon Street | Zonnebloem | wayne@waynekeet.co.za | +27 (0)21 461 2931 | Tuesday - Friday: 3pm - 2am | Saturday: 6pm - 2am

A ROOFTOP BAR ON KLOOF
Up Yours is the rooftop cafe and bar above Yours Truly that feels like an urban jungle with flowers, vines and potted trees everywhere. The beer garden is frequented by young travellers (there is a backpackers close by) has an extensive drinks menu and live music every weekend. There are always DJs, bands and solo acts, international and local.
Entrance: Free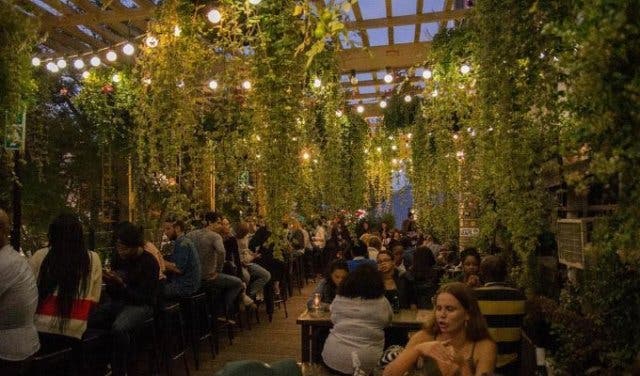 73 Kloof Street | Cape Town City Centre | info@yourstrulycafe.co.za | +27 (0)21 426 2587 | Monday - Sunday: 2pm - 10pm

A SPEAKEASY-STYLE BAR
SoCal, hidden inside Jarryds CBD, is a speakeasy-like spot, a colourful space cluttered with locals and tourists looking for a good time. Friday nights are tropical-disco themed, and guest DJs keep partygoers dancing well into the night. Or join DJs like Playground Twins, Dean Murray or Colin Sher on Saturday nights. You can also catch Kyle Cassim, Leighton Moody and Boogie Vice.
Entrance: Free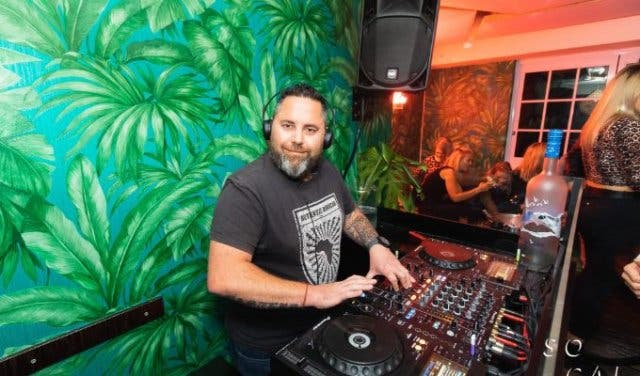 114 Bree Street (entrance on 75 Church Street) | Cape Town | socal@esthg.com | +27 (0)76 268 8163 | Friday & Saturday: 7 pm - late | First Thursdays: 7 pm - late

ADOPT A NEW AFTER-WORK HOTSPOT
The manager at Orphanage Cocktail Emporium claims that their "Swim & Tonic" is the most Instagrammed cocktail in the world. We can't prove that. What we can say that the club is a cocktail paradise and at 10 pm it transforms into a late-night deep-house lounge and it's loved by celebrities (such as Travis Fimmel and Gordan Ramsay). You can listen to acts like Darren Rose, Tanya Vee, Bryce, Peter "Milk B" Lebese and Tamara C.
Entrance: Free


227 Bree Street | Cape Town City Centre | pleasesir@theorphanage.co.za | +27 (0)71 534 0233 | Monday - Saturday: 5 pm - late

ENJOY HAPPY HOUR AT THIS CALIFORNIA-INSPIRED DIVE BAR
SurfaRosa is prime real estate for locals, regulars and travellers of Cape Town who're looking for a chilled evening. The interior is rustic, with old Persian carpets and wood panelling, while the patio is a great spot for Happy Hour, especially on a hot day when the cool breeze has picked up. This Californian punk-style dive bar will keep you partying well into the night.
Entrance: Free


61 Harrington Street | Zonnebloem | surfarosa@thefirmct.co.za | +27 (0)21 461 2276 | Tuesday - Thursday: noon - 2 am | Friday & Saturday: noon - 4 am

SEE ACTS LIKE GERRY LIBERTY AND LOS TACOS AT HARRINGTONS
Harringtons occupies the same building as SurfaRosa, and is the Yin to SurfaRosa's Yan: a boutique-bar/cocktail-lounge with panoramic views of the concrete jungle. On Thursdays, there's live music. Other nights, local DJs keep you up to date with Cape Town's music scene. If you find yourself at Harringtons in the near future, you might see acts such as Gerry Liberty, Jackel & the Wind, and Los Tacos.
Entrance: R100 after 10 pm


61 Harring Street | Zonnebloem | harringtons@thefirmct.co.za | +27 (0)21 461 2276 | Wednesday - Friday: 4 pm - late | Saturday: 6 pm - late

DANCE THE NIGHT AWAY AT THIS BRAAI-INSPIRED BAR
The Village Idiot is popular amongst Cape Town locals and celebrates South African braai culture via its menu of ribs, bobotie and steak. Step out onto the balcony on warm evenings, or, when it's cold, snuggle up to the colonial-style fireplace inside. If you want a more intimate setting, check out the faux-library section in the back corner - plus there's a pool table. If you're out celebrity-stalking, you might find people like Travis Fimmel, Francois van Coke, Loki Rothman, Ruby Rose and Trevor Noah. In-house DJs Funk-G, Kalisi, and DJ West will keep the beats going until the early hours. Check out the Idiot's social pages to see which acts are coming up.
Entrance: Free


32 Loop Street | Cape Town City Centre | info@thevillageidiot.co.za | +27 (0) 21 418 1548 | Tuesday - Thursday: 3 pm - late | Friday & Saturday: noon - late

BOOGIE UNTIL YOU DROP
Boogie is a Cape Town classic. In the heart of Claremont club county, this 80s-inspired nightclub is a mecca for die-hard disco fans, varsity students and reminiscing old-timers. Music includes a fusion of 80s and 90s with just a little bit of modern pop thrown in. Make sure to swing by the bar between 9 pm and 11 pm to check out the daily specials.
Entrance: R20-R50 from 10 pm


12 Stegman Road | Claremont | boogieclaremont@gmail.com | +27 (0)21 671 2814 | Thursday - Saturday: 9pm - 3am

---
Enjoy a CBD infusion experience on Long (CBD optional) at Infusion On Long.
Charm all five senses at Maaya Cape Town.

It's all about you at these special birthday party places.

Here's your guide to the top party places in Cape Town.

Cape Town's full of nightclubs. Discover one that suits your fancy here.

With the weather getting hot, move your party outside to one of these rooftop bars.

---

Supercharge your event? Our Events Support Programme gets results. Contact support@capetownmagazine.com or +27 (0)21 565 0415.

Use our events section for an up-to-date overview of what's happening in the city, suburbs and dorpies. Join our newsletter and add us to your mobile home screen for the ultimate guide to discoveries in Cape Town.

Follow and like us on Twitter ❤ Facebook ❤ LinkedIn ❤ Instagram ❤ Pinterest for updates.